Looks like I will have to eat my words. Wrestlemania 35 is not only better than last year, but it's also, probably, the most consistently entertaining Mania show since Wrestlemania XXX in New Orleans.
WWE made the most of a weaker card to deliver several feel good (and some shocking) moments. The 82,265-strong crowd also set a record for the Metlife stadium, with WWE grossing $12.3 million from ticket sales alone.
Is this a pretty good Wrestlemania show? It definitely is. Is it better than NXT Takeover: New York? That would be a long stretch. Wrestlemania 35 had sixteen matches to juggle, while Takeover: New York only had five. Nevertheless, most of the right people won on Sunday, and nowadays, that's more of an accomplishment than many might think.
The show opened with a solid Cruiserweight title match, with Tony Nese finally vanquishing a dominant Buddy Murphy. Although they are friends, neither spared the other when it came to punishing, hard hitting strikes. It's a bit surprising that Nese was the man to end Murphy's reign, because Buddy has vanquished a long list of other challengers for the better part of a year.
Carmella won the women's battle royal, outlasting several others on her road to winning the trophy. Carmella didn't really need a win like this, since she is a former women's champion and all. Many were disappointed someone like Asuka didn't win the battle royal, but there's not really much you can with just ten minutes or so.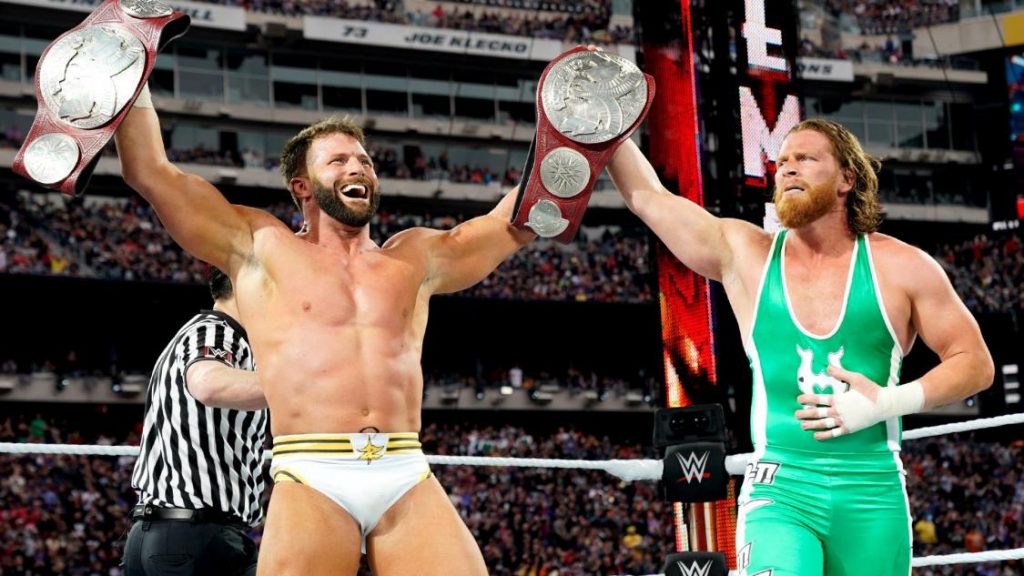 What's more of a surprise is the fact that Curt Hawkins finally ended his 269-match losing streak, working with Zack Ryder to defeat the Revival for the Raw tag titles. To be honest, this Wrestlemania moment isn't too different from Ryder's own moment in the sun, when he won the Intercontinental title in a ladder match in 2016. This is also an unfortunate turn of events for the Revival, because as it stands, it's looking unlikely that they will get more title shots in the near future.
Braun Strowman won the Andre the Giant Memorial Battle Royal, of course. There really wasn't any other course, since Michael Che and Colin Jost were brought in specifically to act as foils for Strowman. There was a slightly funny moment where Colin Jost took to the mike and called for Strowman to work out his issues with a therapist, who was immediately swatted away by Strowman; however, that doesn't really redeem a match that doesn't do justice to most, if not all, of its competitors.
An Explosive Start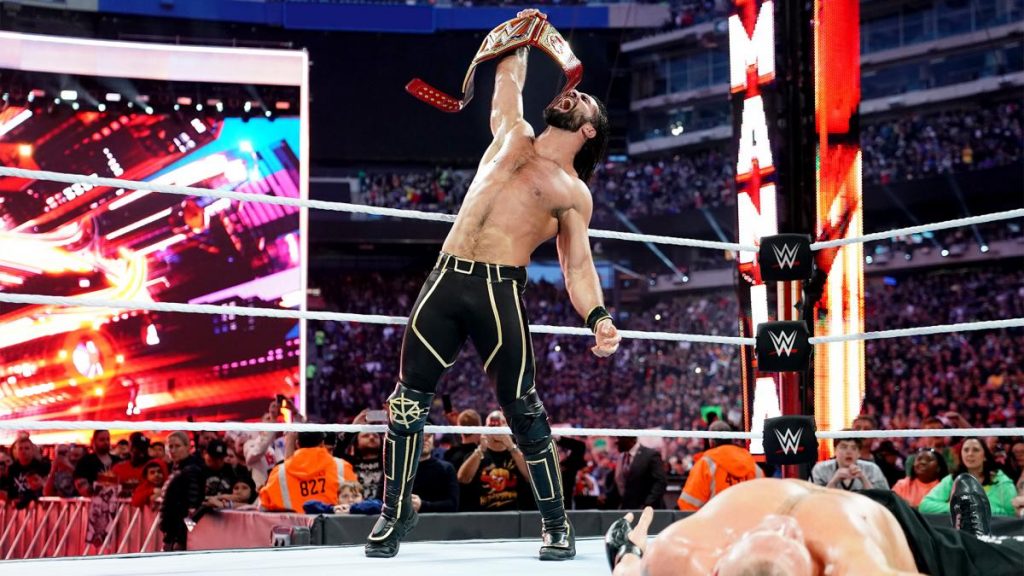 The main show kicked off in earnest with the Universal title match. This was a smart move by WWE, as it was a short but well-worked match that told a simple and clear story from start to finish. Lesnar manhandled Rollins before the bell rang, throwing him around announce tables and the ring, trying to maim his opponent before the match began. Rollins, however, gained momentum after catching Lesnar off guard with a low blow, giving Lesnar three Curb Stomps back to back before pinning him for the win.
There were plenty of callbacks to both Lesnar and Rollins' history, such as the low blows mirroring how the Undertaker brought Lesnar low in 2015, and Rollins losing to Lesnar in head to head fights since Royal Rumble 2015.
It's likely that Lesnar is probably going to take a sabbatical from WWE to prepare for his eventual UFC match with Daniel Cormier.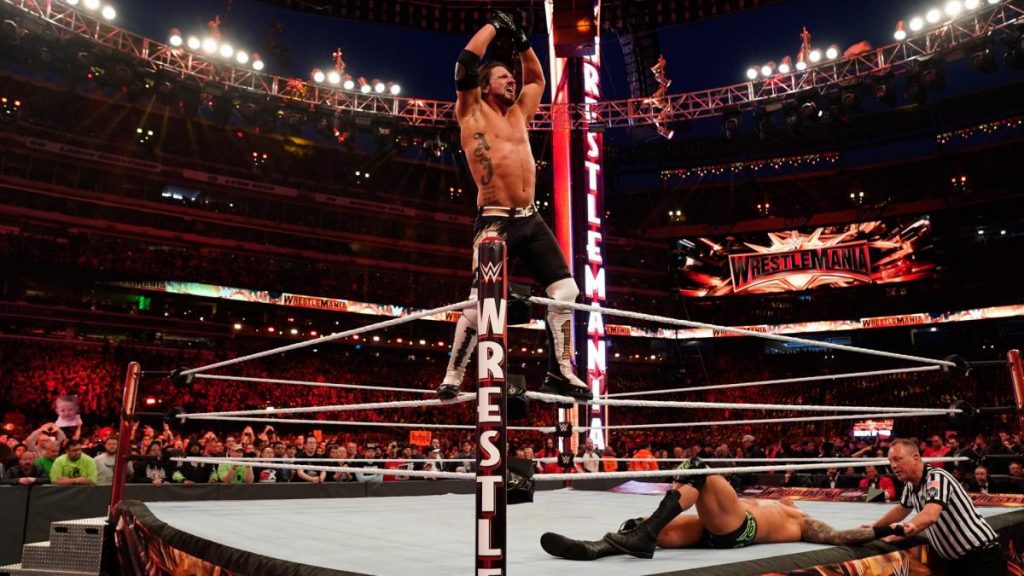 The Styles vs Orton match was pretty solid, setting the tempo for the rest of the night in terms of storytelling and match quality. There were plenty of RKOs and Phenomenal Forearms to go around, and these moments were evenly paced out throughout the bout. This match was mostly built around AJ Styles surviving the RKO and overcoming the odds through willpower and skill. However, the lack of stakes made the match feel less of a must see affair.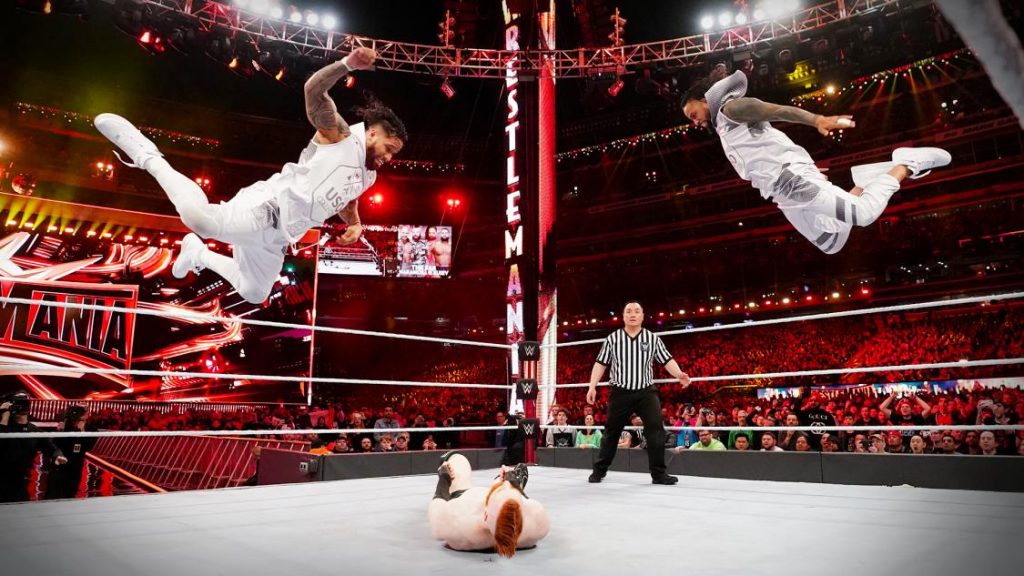 The Smackdown Tag titles Fatal Four Way was an unexpected delight. Ricochet had plenty of time to shine, and near the end of the match, there was a moment where almost everyone got to bring out their signature or finisher move against their opponents. There also an amazing spot where Cesaro swung Ricochet around for a solid 90 seconds, while Sheamus thumped the hell out of several superstars on the ropes.
Usos retaining the title is a bit predictable, but as one of my close bros put it, they do deserve the titles as perhaps the best tag team in Smackdown Live.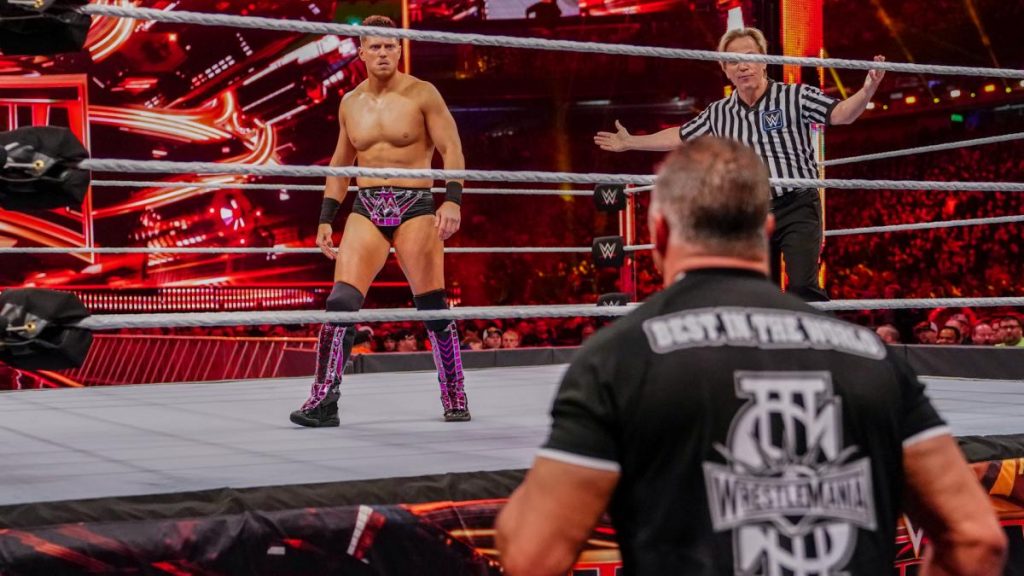 The Miz vs Shane McMahon match was better than it had any right to be. The match had a lot of psychology to it, though it was mostly overt rather than the subtle narratives you can get from NXT or NJPW. You have got to give props to Shane McMahon: the guy wrestled like it was still the Attitude Era and put his hands on a 68 year old guy on national television. It probably doesn't get more heelish than that.
The tail-end of the fight, which took place in the audience stands, was reminiscent of Shane's match with Kurt Angle in King of the Ring 2001. The ridiculous finish, where Miz suplexed Shane off a ten-foot plus ramp before being accidentally pinned by Shane, contained just the right amounts of nostalgia and fun. Shane McMahon, of course, lives on and will probably live beyond 50, provided he stays away from high places for the next couple of months.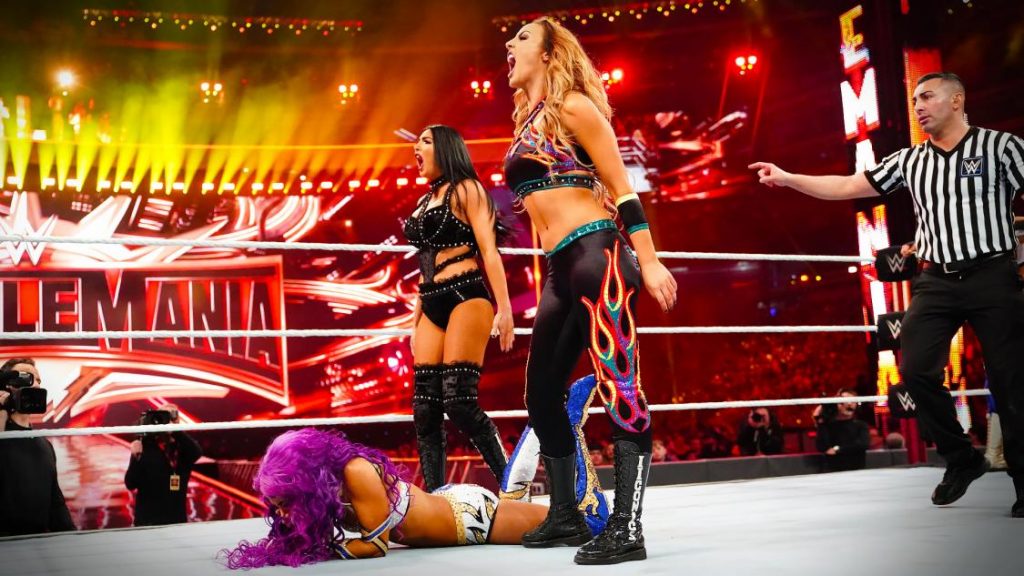 The Women's Tag Team match was mostly unremarkable, except for the finish, where the IIconics stole the pin after Beth hit a massive Glam Slam on Bayley from the top rope. Everyone, however, pulled their weight in this match, and the finish will lead to pretty interesting storylines in the immediate future (provided that management doesn't screw this up).
How Dreams Came True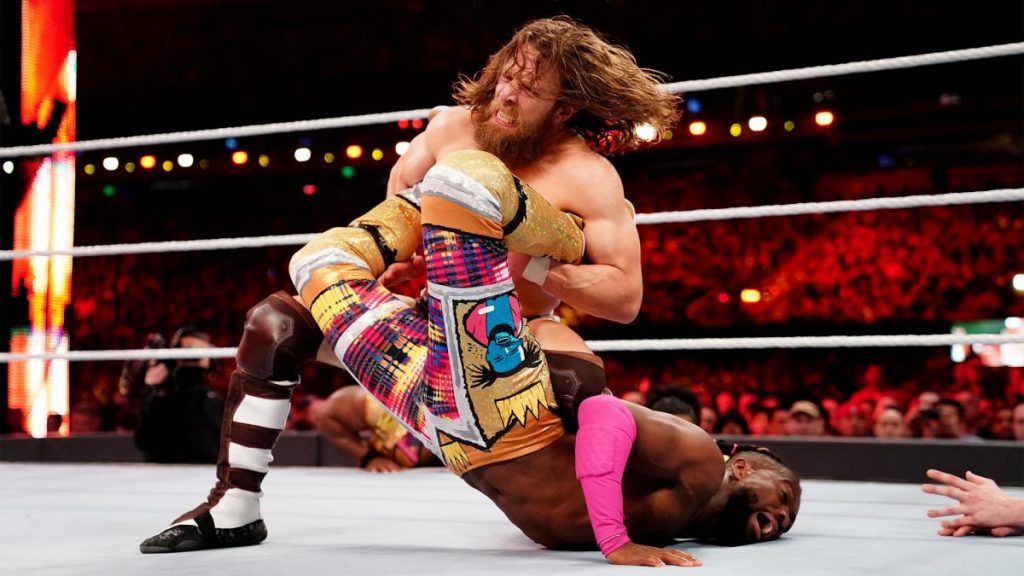 The Kofi Kingston and Daniel Bryan match could have ended only one way, but the two sure took their sweet time getting there. Bryan played the part of the deranged, methodical heel to great effect, slowly torturing Kofi, who held on and attempted to regain momentum throughout the match. The heart of the match (and the story) stayed intact among a flurry of Trouble in Paradises and Running Knees. This match had almost everything, from Daniel Bryan going for a Yes chant (the crowd No instead) to the rest of the New Day fighting against Rowan.
Kofi powered out of a final LeBell lock to hit Bryan with a decisive Trouble in Paradise, pinning him for the win. The New Day unveiled a new championship belt, sporting the old leather strap, and once again, all was well in the kingdom of Smackdown Live.
The feel good nature of this Wrestlemania moment is something that you had to see. It made me feel a sliver of regret at not seeing this live in the stadium, as it was happening some twenty miles away from where I lived.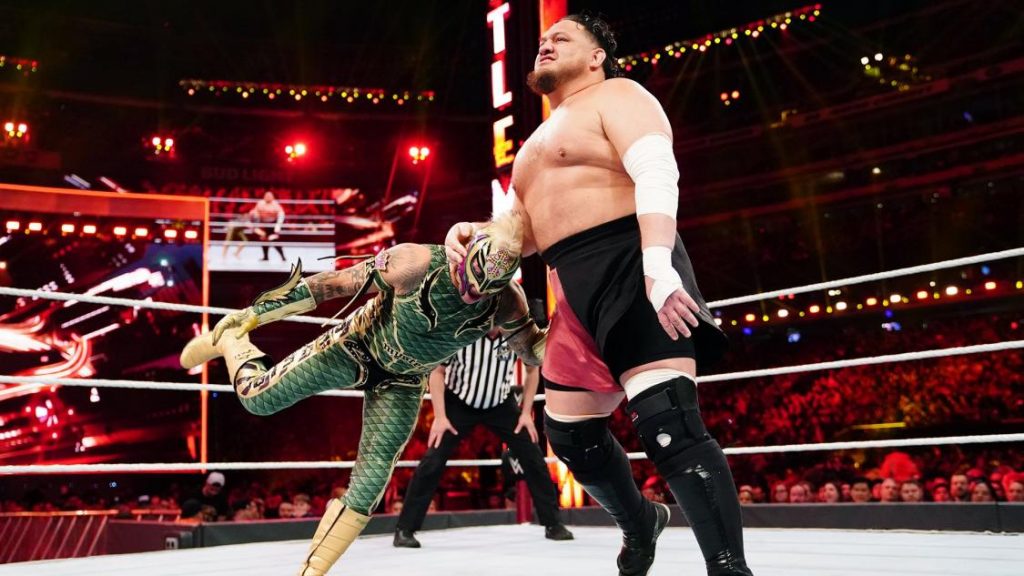 The next match, Samoa Joe vs Rey Mysterio, barely warrants a mention. Joe squashed Mysterio in a minute after putting the man to sleep with the Coquina Clutch. Apparently, Mysterio was also nusring an injury going into the match.
While the match was almost unnecessary, it did give Joe another chance to look dominant, and it made the United States Championship look a tad bit better.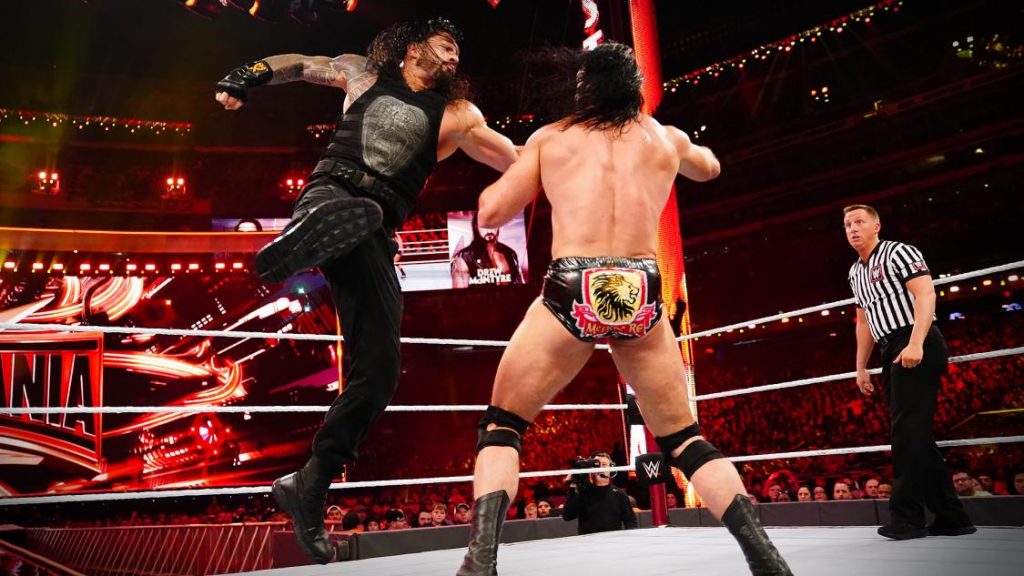 Drew McIntyre put on an impressive showing against Roman Reigns, rocking the Samoan with plenty of rattling strikes as he looked to mark his territory. Reigns, for a change, fed off the energy of the crowd in an organic way, rallying his energy to execute the familiar Superman Punch and Spear to get the win. This match was as good as it could be, with so little stakes, but it was another minor feel good moment too. Reigns looked genuinely relieved and happy to be competing in the ring after six long months.
The Elias segment was one of the highlights of the night, kicking off with the man playing off of himself on both guitars and piano. His concert was interrupted, as expected; what we didn't expect, however, was John Cena to return as the Doctor of Thugganomics. Cena dropped some sick burns that were definitely not PG in nature, talking about hairy bushes and pistachio nuts before dropping Elias with a Five Knuckle Shuffle and a FU (yes, you heard it right, a FU, not an Attitude Adjustment).
This was the best Cena non-match appearance in years, especially if you count the time he ran in to help the Rock against the Wyatts on Wrestlemania 32.
Putting it All on the Line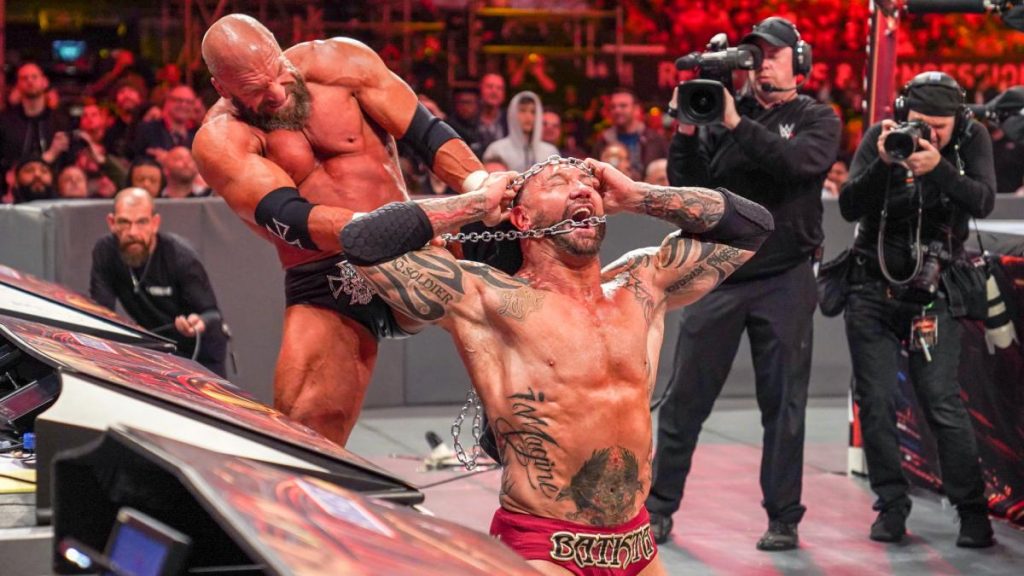 Triple H vs Batista felt like a throwback to the late 2000s, and for good reason too. Triple H brought out a side of himself we haven't seen since 2009, playing mind games with Batista and dishing out cruel and unusual punishments. The stand out moment of the match early on was Triple H putting a chair on Batista and then using pliers to take out Batista's nose ring while sitting on that very chair. It's the kind of flat-out ridiculous WWE moment you used to see all the time in the days before the PG era. Unfortunately, with both men are pushing their fifties, the pacing of the match suffered noticeably, as they could barely move around the ring.
Thankfully, the old school storytelling made up for it, and the match ended with an okay finish before overstaying its welcome.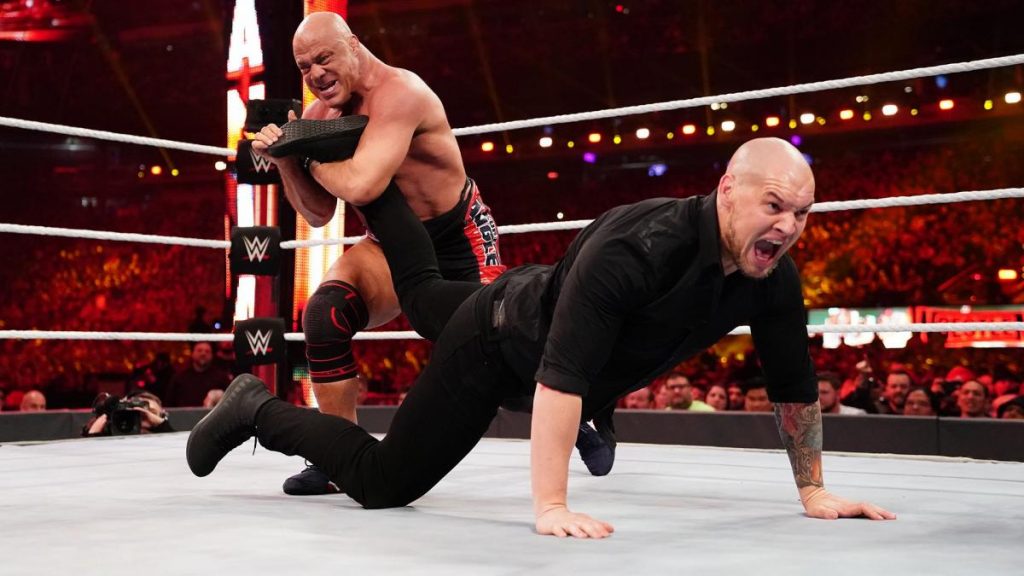 The Kurt Angle match wasn't pretty, but he went out the way you would expect him to, on his back for a younger superstar. Of course, most of us hate Baron Corbin, but's exactly the point. A win against Angle (and subsequent gloating in the next few weeks) raises Corbin's profile, giving the opportunity to move on to bigger and better things.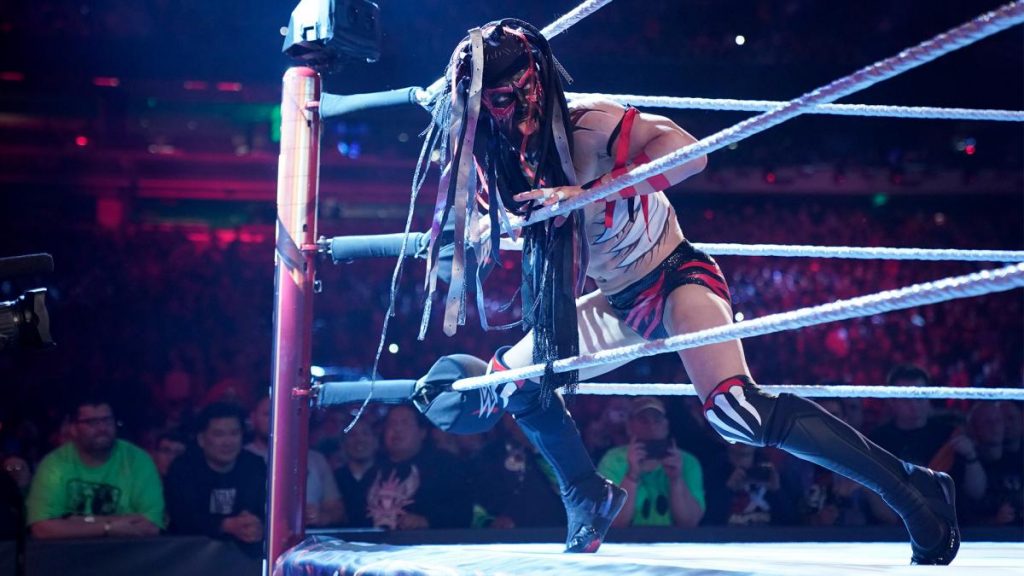 The next match, between Finn Balor and Bobby Lashley, was mercifully short, punctuated by some smooth offense from Balor. Balor brought out the demon paint for this match, and thus it wasn't any surprise that he won the Intercontinental title back within four minutes.
Fighting for Glory
The women's winner take all main event started off with a slew of great entrances, with Charlotte flying into the stadium on a helicopter and Ronda Rousey coming out to Joan Jett and the Blackhearts playing Bad Reputation.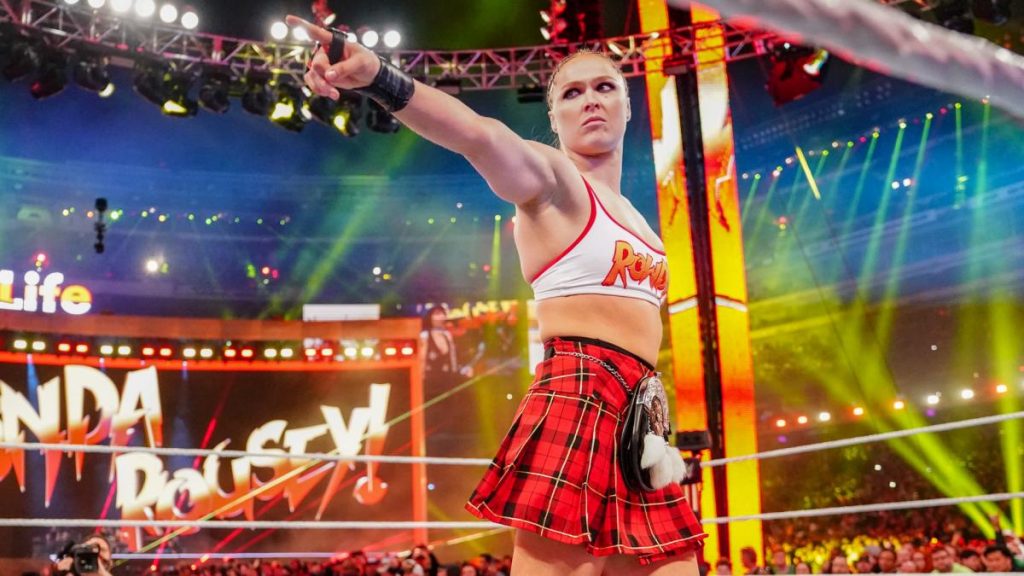 The match started off slow, with all three superstars trying to better the odds by taking out another superstar early on. There were several moments where Rousey was fighting off both Becky and Charlotte; this was the right way to go, since you can easily believe that Rousey is the kind of fighter who can withstand a two woman attack for good stretches of time.
The match picked up in tempo, with Becky executing a Dis-Arm-Her on Rousey and Charlotte subsequently taking Becky out with a Spanish Fly. Becky and Charlotte soon bring out table, with Charlotte taking both women out with a pair of spears. Becky and Ronda, however, were ready for her, and Charlotte misses, crashing into the table in the corner. Ronda attempted one last Piper's Pit, but Becky countered it with a successful pinfall.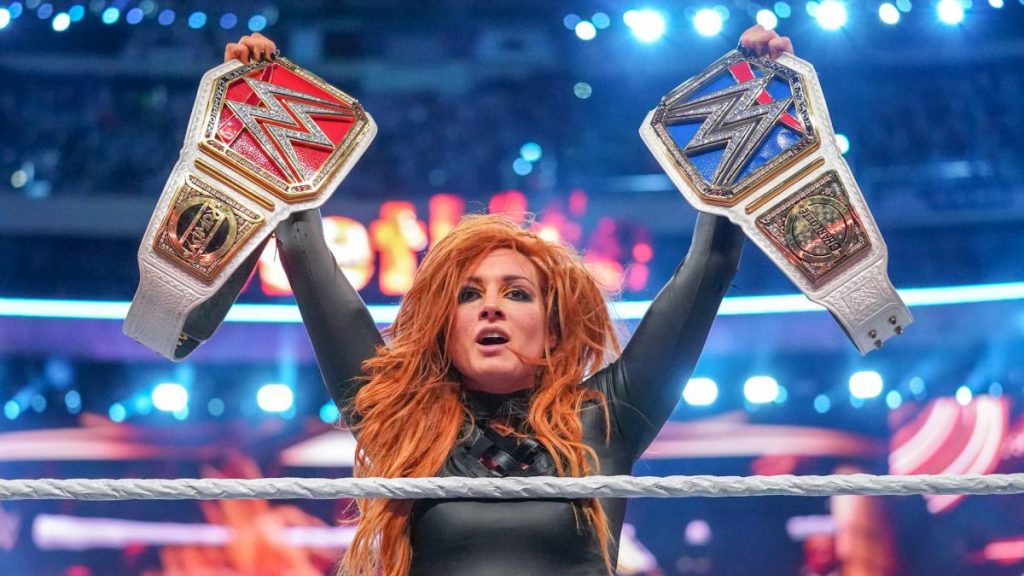 The match ended in a rather abrupt way, but that probably means more matches between these three coming out of Mania. The story was well-told, with Becky frantically fighting back harder than the other two, her hunger for gold propelling her to double title glory.
The Verdict
At onset, the build to this year's Wrestlemania didn't seem well-put together. However, at the end of the day, the whole was better than the sum of its parts.
This Wrestlemania, like most others, was a long, long affair, lasting around eight hours in total. Sitting through 16 matches was more of an endurance contest than expected, but thankfully the show ended this year shortly after midnight, giving attendees ample time to get back to their homes and hotels.
Taken as a whole, this Wrestlemania was probably better than even Wrestlemania 31, and that's no mean feat.
The only thing that felt remiss was that this was the first Wrestlemania in 19 years to feature no Undertaker appearance, but that's to be expected. Plus, we might still get to see the Deadman when WWE tours overseas again.