Wednesday
August 22, 2018
5:26 AM
Colonel Jurgens floated towards the hull of the station, looking expectantly at the horizon. Lieutenant Byrne glanced at her commander before resuming her task. Maintenance work was supposed to be routine, but Byrne never felt tired working with solar arrays. She was working on the eighth array, or Bernie, as she liked to call it in her head. Along with its seven twins, Bernie had the gargantuan task of powering the International Space Station.
She paused her work to check on Jurgens. He was floating around the base of the array. The elastic cord connecting the two astronauts was barely visible.
Byrne smirked. "Is this a whole ritual for you, Bob?"
"Yep."
"Why drop by every week, though? Doesn't he have Justice League business to attend to?"
"This was Justice League business, a couple of years ago."
Byrne's interest was piqued. "What was it?"
"It's classified."
"Brainiac? The Sinestro Corps? Luthor?"
"You can keep throwing names. It's still going to be classified."
"Fine by me, Bob."
Byrne resumed her task. The circuits looked alright, but then again there was a whole two thousand square meters of wiring that could be meticulously checked over the next few hours. She had logged only ten hours and change worth of space time so far. She wondered how long Superman had spent out here. Probably weeks, if not months.
"How many times has he been here already, Houston?"
"Two hundred and forty one, Lieutenant."
"Oh. At least he is consistent. I wonder if this gets old for him. It's already getting a little old for me."
Jurgens sighed into his mouthpiece. "How long has it been, Nina? Three months?"
Byrne floated farther across Bernie's length, pulling Jurgens in tow. "Give or take."
"Three months, and you are already desensitized with everything."
"Nah. I am still in love with Bernie, aren't I?"
"What about that boyfriend back in Seattle?"
Byrne frowned.
"The jury is still out on that front."
Long distance relationships weren't supposed to be easy, but she had never experienced those hardships before in all the years she had spent in San Francisco and Houston. As understanding as Scott had been, something just changed since she came to space. It's as though the extra two fifty miles between them shed a new light on their relationship.
"Well Nina, c'est la vie," Bob said, as though reading her mind. "Did I ever tell you what happened on my last tour? I was blowing kisses to Mrs. Jurgens every time I came out here, but then I went down, took a plane to Maine, and found out that she was-"
"Sleeping with a professional Matt Bomer impersonator. Yes, Bob, you have told me this before."
Bob laughed softly. "Yeah, yeah. Why Matt Bomer of all people though? Isn't that guy gay?"
"You better ask Dori about that, Bob."
"Uh-huh. Will do. Houston, what's Big Blue's status?"
Mission control chimed in through the radio. "Still in the stratosphere, Commander. ETA: one minute."
"Copy that."
Byrne continued to survey the array. The sensors said everything was fine, but she wanted to be sure. Truth be told, everything was fine, but she liked spending the extra time out here. She liked the ISS' microgravity environment and mingling with the other astronauts. But at day 95 of her ISS stay, she had learned all she wanted to learn about everyone's personal and social lives.
Byrne was never a social butterfly back on Earth. She came all the way out here because she wanted to escape people. That's the main problem with the world, she had always maintained. It's other people.
"Oh," Jurgens exclaimed. "Look at that!"
Nina turned. A blue blur twinkled in the distance. It sped towards them, like the smallest comet in existence, an effusive trail of red wisps billowing behind its trail.
And then, just like that, Superman was in front of them.
Strangely, he looked both more impressive and more mundane in real life.
"Bob!" Superman said, floating towards the two astronauts. "I didn't keep you waiting for long, did I?"
"Not at all. Actually, I think you are early. Houston, how long did it take for him to get here?"
"Forty-five seconds, commander."
"Hah!" Jurgens guffawed. "I should have bet against that with Engineering. You guys need better orbital tracking."
Superman grinned. "Subliminal speeds, Bob. I wish you could try it some time."
"Oh, don't we all," Jurgens motioned towards the station. "You sure you don't want to swing by and meet everyone else?"
"Maybe on a Saturday." Superman squinted, his irises glazed. He turned to and fro, slowly in a 180 arc. "How's Dori doing?"
"Fine, probably."
Superman smiled wryly, offering his hand to Byrne. "Maam, I didn't catch your name."
"Lieutenant Nina Byrne," Byrne shook Superman's hand. It felt like cold steel. "How are you talking? Nanotech?"
"Close. A mix of Kryptonian bioengineering and JL neuralnets."
"I see."
Byrne studied the man closely. He carried himself with grace and ease. It wasn't difficult to see why people compared him to Jesus, and why others were uncomfortable with such comparisons. Some metahumans were morons, and others were delusional, claiming to be Gods.
This man, however, was the closest thing to a God that Byrne had yet seen. Like Jesus, he had died and come back from the grave. But that knowledge didn't bother him. He was, at this moment, simply a professional. One who just happened to have superpowers.
"Bob, I am done with the sector scan. ISS is holding up well. Your blood sugar level, however, now that's alarming."
"I know!" Bob agreed solemnly. "Need a new diet and more cardio. How's your week been so far, big man?"
"It's been pretty quiet, actually. Weather's good, too, or as good as it can be, with global warming. If this keeps up, I might go on a summer vacation myself."
Byrne's curiosity got the better of her. "Where? The Andorran Mountains?"
Superman grinned again, from ear to ear. "The outskirts of the Lanikea Supercluster. It's been a while since I explored further than the Gloriana. The things I have seen in that galaxy…you wouldn't believe."
Byrne's heart warmed. "Try me."
"Blue stars that put Rigel to shame. Planets with lifeforms just beginning to gain sentience. Non-carbon based lifeforms. Ruins of planetary obelisks long lost to time. Archaeological records of languages that had three hundred and fifty nine words for love, and twenty three thousand synonyms for warfare."
Bob groaned. "Jesus, Blue. Don't tease us like that. We will never see any of that in our lifetimes."
Superman nodded pensively. "Perhaps. But who's to say?"
Byrne echoed his sentiment. "If not us, then maybe our grandchildren. Or their granchildren."
"You might not have to wait that long. Elon is getting us to Mars pretty soon. If we get a good handle on geopolitical and metahuman factors by the next decade, we could make it to Titan by 2040."
Byrne smiled. "You dream too easily, Superman."
"We all dream. Some of us have just forgotten how to."
Once again, Superman's eyes glazed over. When his gaze returned towards Jurgens and Byrne, he smiled at them, and at the five faces behind them, staring at him through a glass window.
"You guys should get back to your crew, Bob. See you next week. It was a pleasure meeting you, Nina."
"Likewise, Superman."
"Before you go, Blue, could you sneak me a Quarter Pounder the next time? I will you the cash."
"Hah! Sure. Actually, tell you what, I will get something for the whole crew. My treat. Decide on the menu and let me know via email."
Byrne laughed. "Sounds like a plan. Have a great day, Blue!"
"You too!"
Superman turned, jumping two hundred feet ahead, before disappearing in a red and blue blur.
Jurgens waved. Byrne wanted to join in, but decided against it.
Jurgens motioned Nina as he headed back towards the station. "So, what do you think?"
"He was…something. Are you sure a Quarter Pounder fits our safety codes?"
"Pfft. We will figure something out. Houston, can't we get some wriggle room for Quarter Pounders?"
"Let's see, Commander. You will be happy to know that this isn't the first request for Mickey Dee's in space."
Somehow, Nina wasn't surprised by that. Ray Kroc must be proud. "But will this be the first of those requests to be approved, Houston?"
"That's for us to know, and for you to find out."
Bob shook his head, as he waited for the door to open.
"Houston, you cheeky bastards…"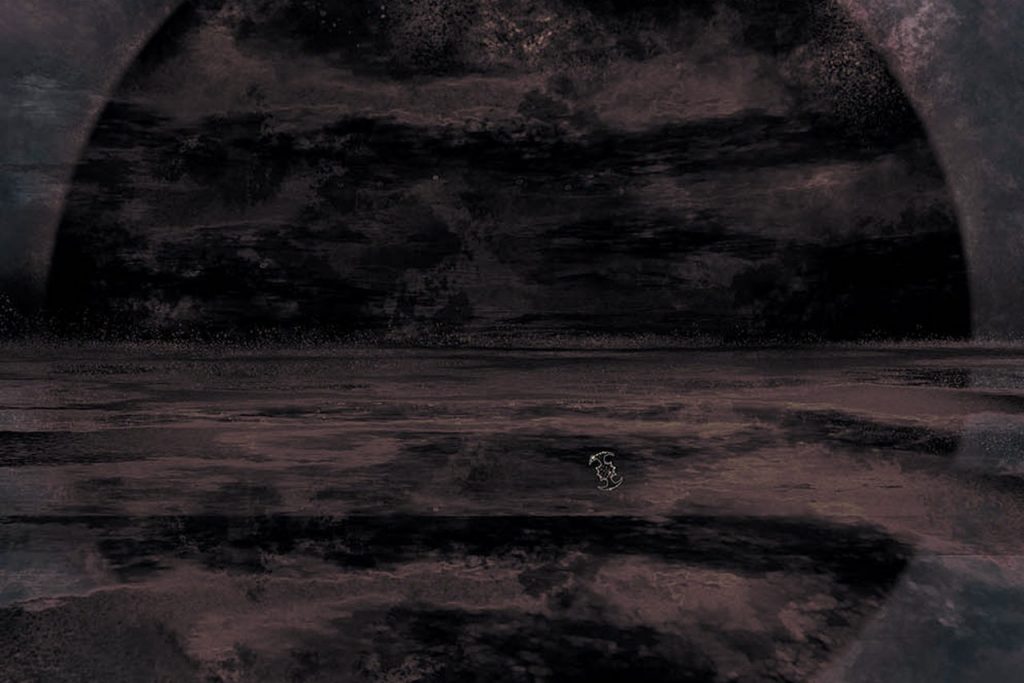 ~*~
Nine trillion miles away, a portal opened in the middle of nowhere. A solitary figure floated out of it, surveying the desolate green skies. He looked across the horizon, and then beyond it. His sight pierced the veil of reality and saw the red oceans of the Bleed.
It felt surreal. Looking at a million different universes, a million different Earths.
A million different versions of himself.
Three universes were being born every second. However, there was no room for them on the Orrery of Worlds. For most of his life, that had been a good thing. Until it wasn't.
52 universes in a sea of quintillion universes. It had taken him forty years of hyperspace travel, but he was finally here.
"Time to get to work."
This is a Shared Universe, multi-chapter story that will be updated periodically. You can also follow this story on other platforms, such as Wattpad.