Not only is Westworld HBO's latest hit, it may well be on track to become its biggest hit.
That might seem like a tall order, but the show has already pulled off the most successful first season in the network's history, averaging 12 million viewers per episode. It has dominated online conversation, spawning endless theorizing and analysis on a level not seen since Lost. This is oddly fitting: J.J. Abrams, who is an executive producer on Westworld, co-created Lost with Damon Lindelof 10 years ago.
Unlike most other shows on television, Westworld plays the viewer, subverting expectations with its non-linear narrative. All aspects of the show, including character development and world-building, are meticulously crafted like a swiss watch. The results, like with most of Jonathan Nolan's works, are laudable for their audacity. Westworld's ambitions are not always fully realized; nevertheless, the show never fails to be interesting.
Do Cowboys Dream of Electric Sheep?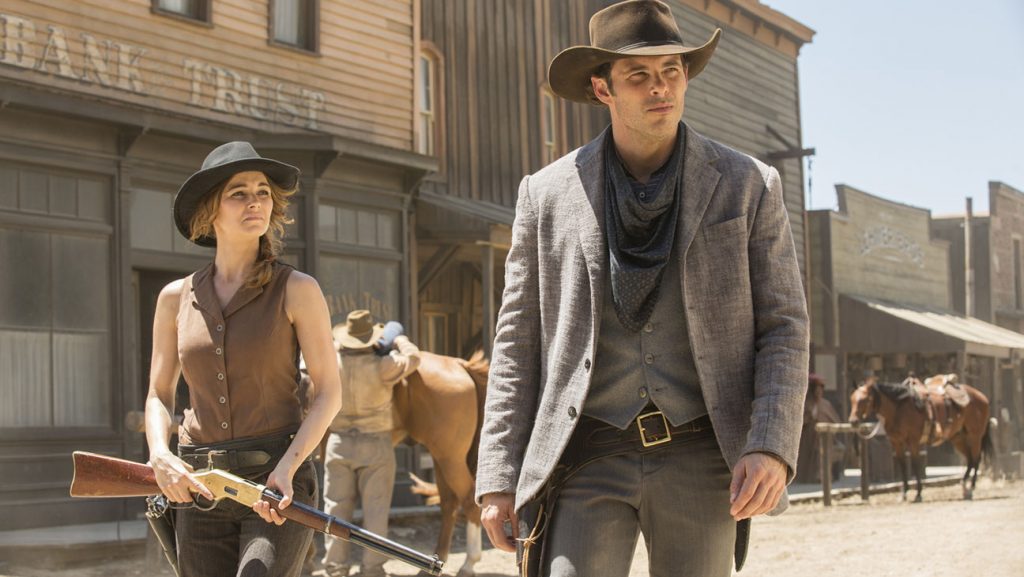 Westworld takes place in a high-tech western theme park where guests can interact with lifelike, robotic hosts. These hosts act out stories in very similar ways to NPCs (non-playable characters) in popular video games such as Grand Theft Auto, Elder Scrolls: Skyrim and The Witcher 3. Correspondingly, the guests often act like trolls do in those open-world games. As this is HBO, however, there is a lot more nudity and fornication involved.
The central premise of this show- robots and AI gaining sentience- is a timeless one.
Westworld breathes new life into the premise by draping the conflict in the undertones of both the Civil War and the random violence video games encourage.
All those villagers and guards you mowed down in Skyrim after you got caught stealing a kitchen pot? And also, those hundreds of people you ran over with cars (and tanks) in GTA V? What if those are secretly actual people and are starting to remember every awful thing you ever did to them?
This hook would be enticing enough for any other sci-fi piece to take the ball and run away with it. Westworld, however, simply makes this one of the several stories running through the first season. Some threads explore the nature of love and affection, while others involve corporate intrigue and, of course, good old fashioned high noon ultraviolence.
How Stories Work, and Don't Work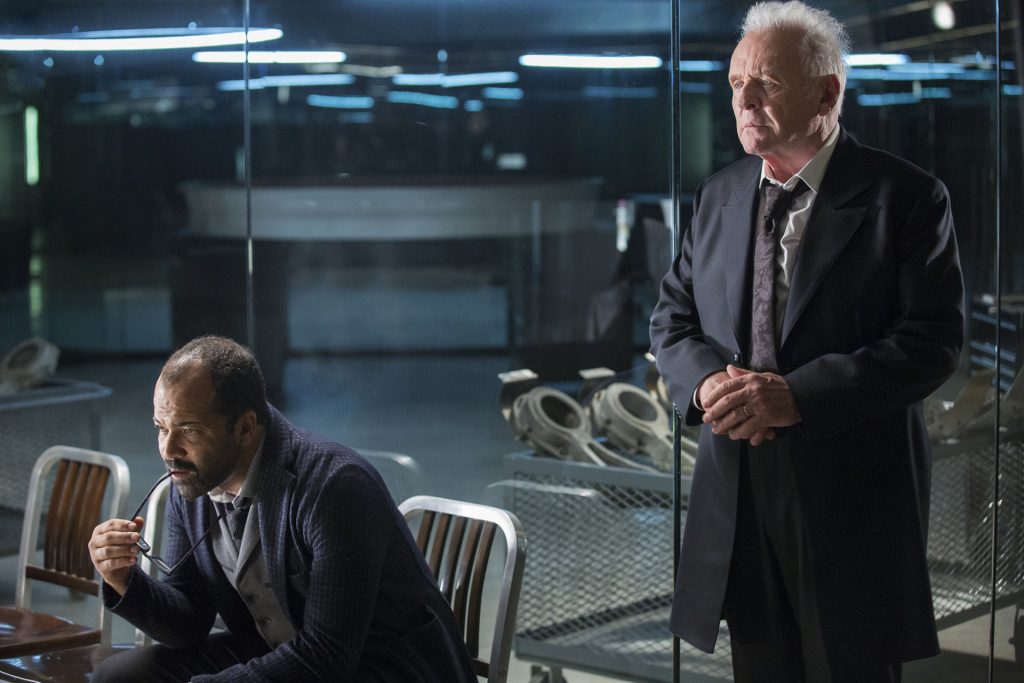 Westworld is an intricately designed puzzle that is as much about storytelling as it is about the dichotomy of free will and determinism. Within Ford, the cryptic, weathered co-founder of Westworld, we can often sense weariness and exasperation at how his enterprise turned out over the years.
At one point, Robert Ford mentions that he initially had hundreds of stories which were more original and positive in nature, but the guests didn't take to them.
Like the show's audience itself, Westworld's guests prefer safer, derivate fare.
It's the brand of cheap tales that hacks like Lee Sizemore, the head of the Narrative Department, is too happy to provide.
In a way, Westworld codifies what it means to take worn-down stories and package them together to make something thought-provoking and modern. The core premise itself is taken from a delightfully campy 1973 movie of the same name, written and directed by Michael Crichton. It's clear that Crichton drew from the same wellspring as with Jurassic Park when painting the broad strokes for Westworld's robot uprising. The show nicely ties into the source material while standing on its own.
Keeping the Guesses Coming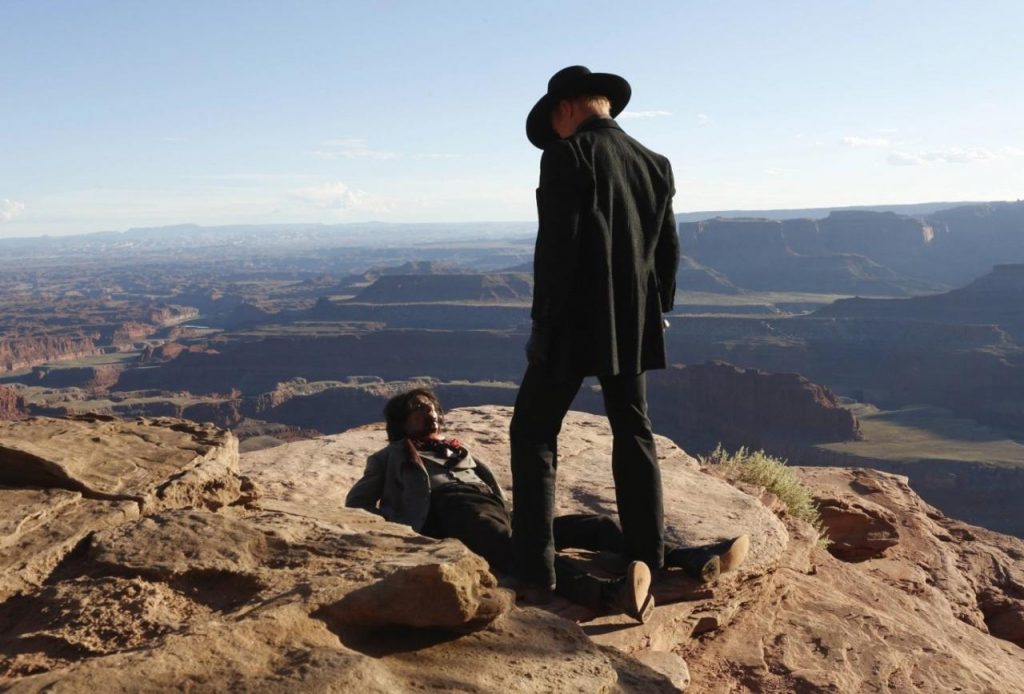 Creators Jonathan Nolan and Lisa May have a lot of interesting things to say with their own take. They also know that they need to keep the audience engaged along the way. The first season is structured heavily like a mystery novel, using conceits like multiple timelines and shifty characters to keep the audience guessing. This worked beautifully, too: thousands were coming up with fan theories at communities like Reddit each day.
Jonathan Nolan has a history of creating long-gestating, highly-intricate existential puzzles. While his brother Christopher usually gets more of the spotlight, it's clear that he provides the creative spark at the heart of movies like Memento, The Prestige and Interstellar. Westworld feels like the capstone to Nolan's career-long meditation on themes like memory, identity and duality.
Showcase of the Immortals
An Exercise in Excellence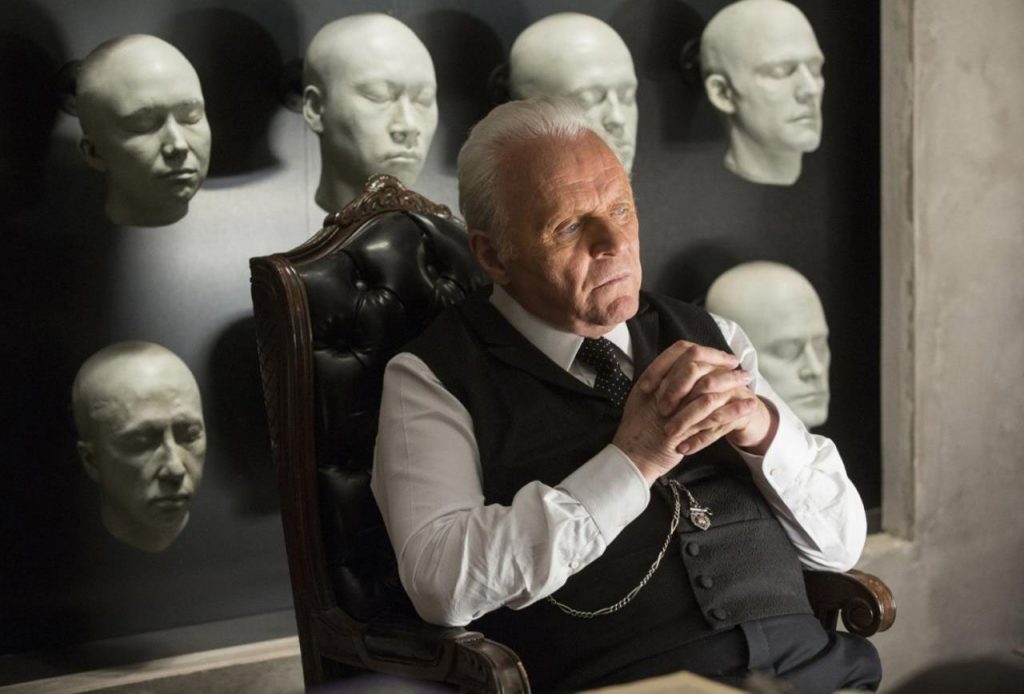 One thing that sets apart prestige HBO productions from their rival-network counterparts is the sheer amount of star power they can pull together for a cast. While Netflix can nab a Kevin Spacey or two and FX can get a Martin Freeman or a Cuba Gooding Jr, none of them are Sir Anthony Hopkins.
Hopkins' virtuoso performance as Robert Ford elevates Westworld from a diamond in the rough to a must-see affair.
He is one of the few series leads who appears through every episode of the season and he rarely fails to be a highlight in every appearance.
His gargantuan screen presence is key to what makes his performance so engaging. However, what truly sells it is Hopkins' pure dedication to his craft. He sinks into the character of Ford; this is a remark echoed by many of his co-stars. Hopkins is known to read his scripts over 200 times, to the point where the dialogue takes a life of its own. Often during production, he did multiple takes of a scene to better understand his character. He strikes a perfect balance between empathy and mystique in his turn as Ford. It is difficult to tell until the end whether he's the villain of the piece or not.
The Classic Bad Gamer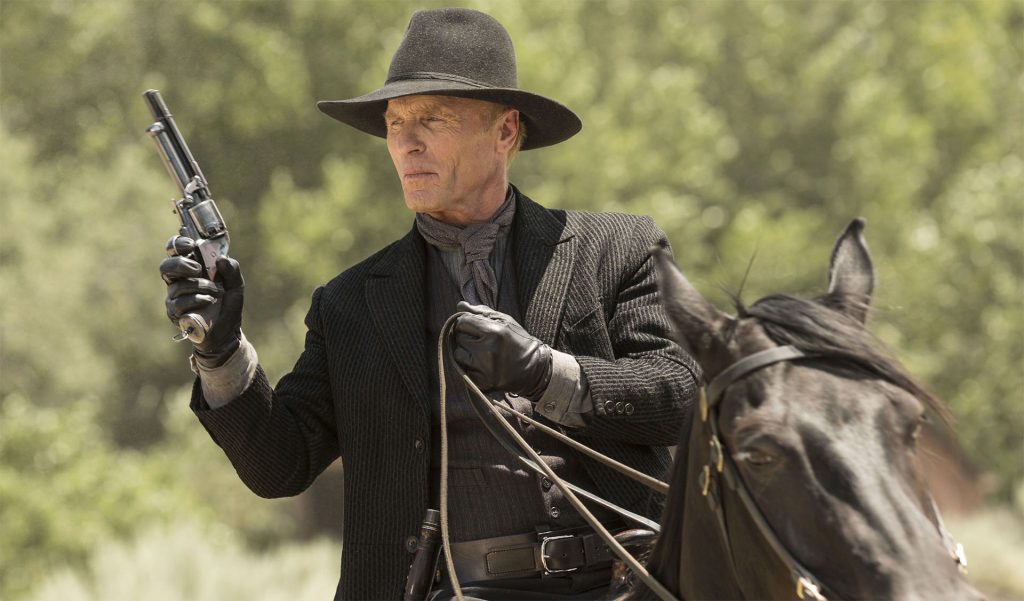 Ed Harris also excels in his visceral performance as the Man in Black, a long-time visitor who cuts a path of vengeance through Westworld as he digs around for secrets. Harris clearly relishes being able to cut loose with this very physical character. He is key to the show's gaming parallels. He represents the kind of super-dedicated gamer who has spent years combing through all the scenarios in Westworld. Having exhausted almost all possibilities, he has gotten bored with the game. He wants more of a challenge.
Harris' character has been often likened to a 'video game nerd' and a 'bad gamer'.
The Man in Black is more interested in taking the game apart to find a deeper meaning (or more commonly, bugs and easter eggs) instead of appreciating it for what it is.
Harris' character is also at the center of one of the show's most talked about mysteries. What makes his portrayal all the more surprising is that he shot most of the scenes throughout the season without foreknowledge of that mystery. "I wasn't looking back. I was looking forward," Harris told the Hollywood Reporter in an interview. "I took in the show moment by moment, show by show, shot by shot."
Waking Up from a Dream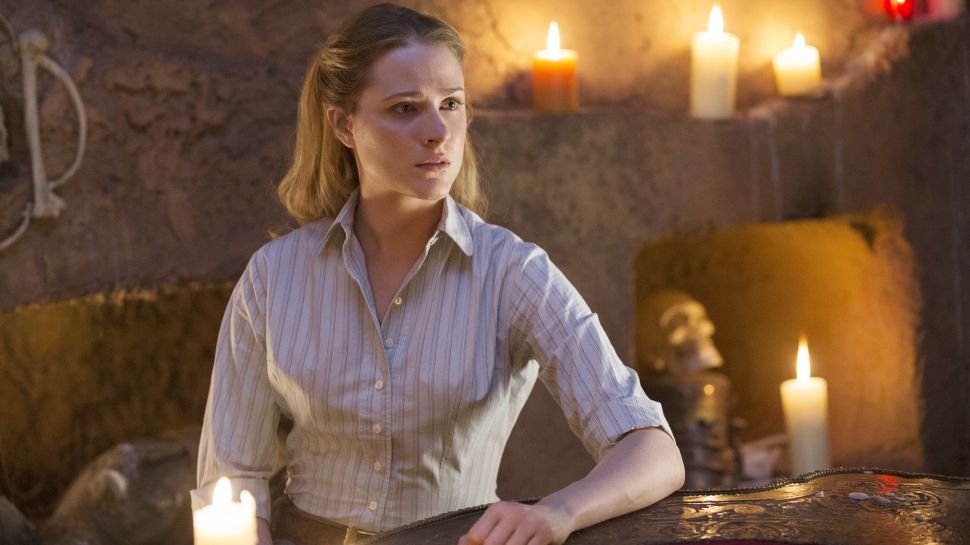 Evan Rachel Wood puts forward a star-making role as Dolores, a host who starts out as a girl-next-door archetype but soon develops agency and sets off on her own path. If Robert Ford is the brains of Westworld, then Dolores, undoubtedly, is its heart. Her search for meaning and answers leads her down a path of pain, hope and heartbreak.
Dolores path parallels that of another host, Maeve (played by Thandie Newton) as both seeks answers and try to take charge of their destinies.
Dolores' story is more sincere and poignant (though at points a tad too saccharine). Her transformation from designated damsel in distress to truth seeker is gradual and organic throughout the show.
Wood draws from deep personal trauma to bring her complex character to life. "Your demons never fully leave," she told Vanity Fair in an interview. "But when you're using them to create something, it almost gives them a purpose. Westworld? I left so much in that first season and never looked back."
Hunter or Prey?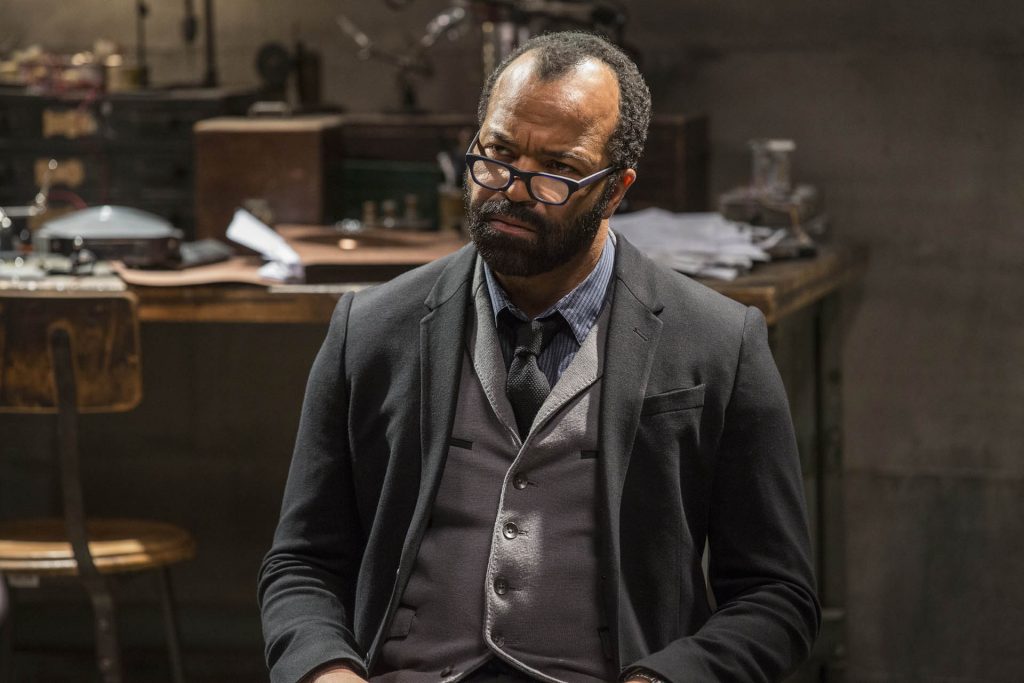 The rest of the cast delivers solid performances all around. Jeffrey Wright, in particular, gives a highly-nuanced portrayal as Bernard, the head of Westworld's Programming Division. From the start, he is the character that the audience most identifies with, and he becomes even more sympathetic as his identity unravels throughout the show. Thandie Newton and James Marsden also deliver robust turns in their respective roles. They often get overshadowed by others in the main cast, but Newton in particular does well as a fiery and wily woman looking to turn the tables against her oppressors.
When the Tail Wags the Dog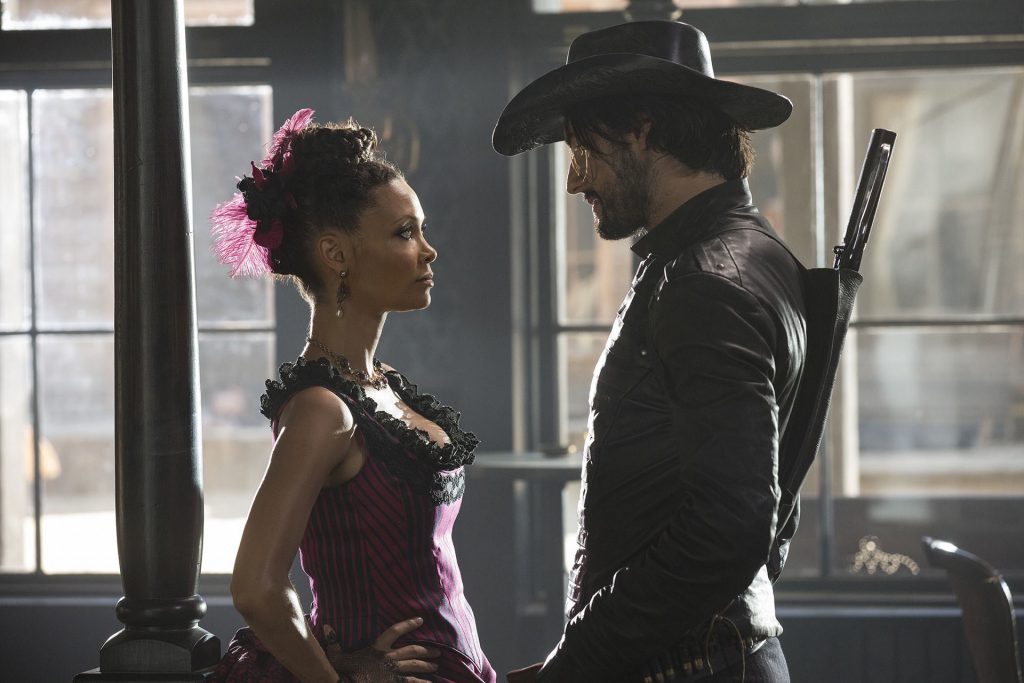 Intrinsically, Westworld is a show about its various characters exploring the meaning of their identities and how to deal with them. Often, however, the show puts more emphasis on the interlocking mysteries and the thematic symmetries they represent than the characters themselves. There is no shortage of screen time when it comes to the main cast. However, every character moment, development and revelation feels like it's beholden to advancing the story itself and understanding the puzzle of the first season.
This makes Westworld's character moments often feel too clinical and polished, like gears kicking into place to initiate the next part of the story.
Like Ford, Westworld is also trying to create beautiful art or 'music'. However, it wields heartbreak, betrayal and suffering like mechanical tools instead of allowing them to take a life of their own. Ideally, the story should service the characters, and not the other way around.
Science fiction, of course, has a history of marginalizing characters in favor of thought-provoking stories. Even then, Westworld doesn't entirely succeed in creating great science fiction. Essential science fiction such as Blade Runner, Ender's Game and 2001 use sci-fi conceits to explore and build the worlds of their fiction. Through this process, such stories draw parallels to and raising questions about our own world. So far, however, worldbuilding in Westworld has been weak. The show doesn't paint a convincing picture of a functional theme park. It also gives scant hints about the nature of the world outside.
To be fair, such problems are often endemic to Jonathan Nolan's work in general. His stories are prone to falling too much in love with the plot and narrative tricks in expense of other details. This doesn't mean that Westworld's story isn't good, though. Clearly, a gargantuan amount of effort has gone into it, and the results show that in spades. At the moment, Westworld is very, very good. However, the show still has ways to go before it becomes truly great.
Why Westworld Needs to Be its Own Thing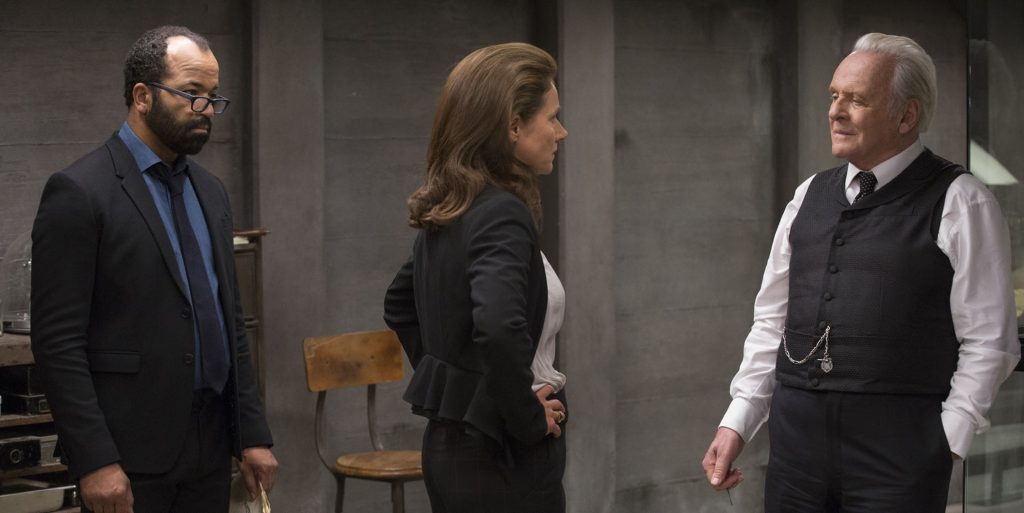 Whatever your opinions are on the show's flaws, Westworld's first season is a rousing success. The 90-minute-long season finale does an admirable job in resolving most of the core narratives in a definitive manner. In fact, the finale acts as such a beautiful bookend that the season can stand apart on its own as a miniseries. Nevertheless, the creative team has the show plotted out for at least four more seasons.
With Games of Thrones two seasons away from ending, there might be a strong temptation to position Westworld as HBO's next tentpole franchise. The once promising True Detective crashed and burned in a convoluted second season.
Although the critically acclaimed The Leftovers has a loyal following, it never managed to catch on, and is ending next season. Westworld won't air its second season until 2018, and theories are already spawning about what's in store.
Trying to turn Westworld into the next Game of Thrones is probably not a good idea. As good as Game of Thrones is, and as flawed as Westworld is, the latter is still a notch above the former. While the recent sixth season was highly entertaining, there was little to discuss beyond predicting plot lines and character deaths (and returns).
One can't help but feel that Game of Thrones has steadily declined in quality over its runtime.
As it has outpaced the original source material, delicate character study and geopolitical intrigue has given way to populism and conventional Hollywood moments.
So far, Westworld has a much tighter narrative focus, as well as greater intrigue and originality. It explores and provides commentary about themes such as gender and sexual exploitation. All the same, it still leaves more than enough on the surface to satisfy the casual viewer. In the future, it may still peter out in subsequent seasons, like True Detective or Mr. Robot did. For the time being, however, Westworld needs to be its own thing.
Journeying Beyond the Maze
A host of possibilities lie ahead for Westworld as it begins the cooldown for its second season. Whether the show will venture out into the wider world or explore more of the park infrastructure remains to be seen. As it stands, Westworld has done a pretty good job in delivering a solid first season, although it falls shy of recent debuts such as True Detective and Mr. Robot.
The entire first season was structured around piecing together the various mysteries about Westworld and its hosts. Now that the cat's out of the bag, it's going to be interesting to see how Westworld evolves going forward.