If you watched wrestling religiously at the time Summerslam 2013 came around, you would remember this being as a strong contender of WWE's Match of the Year.
In a year that featured engrossing storylines- and let's not forget, it was in 2013 that the Yes movement began in earnest- Punk and Lesnar had to dig down deep to deliver a match for the ages. Thankfully, both men were up to the task.
The Road to Summerslam 2013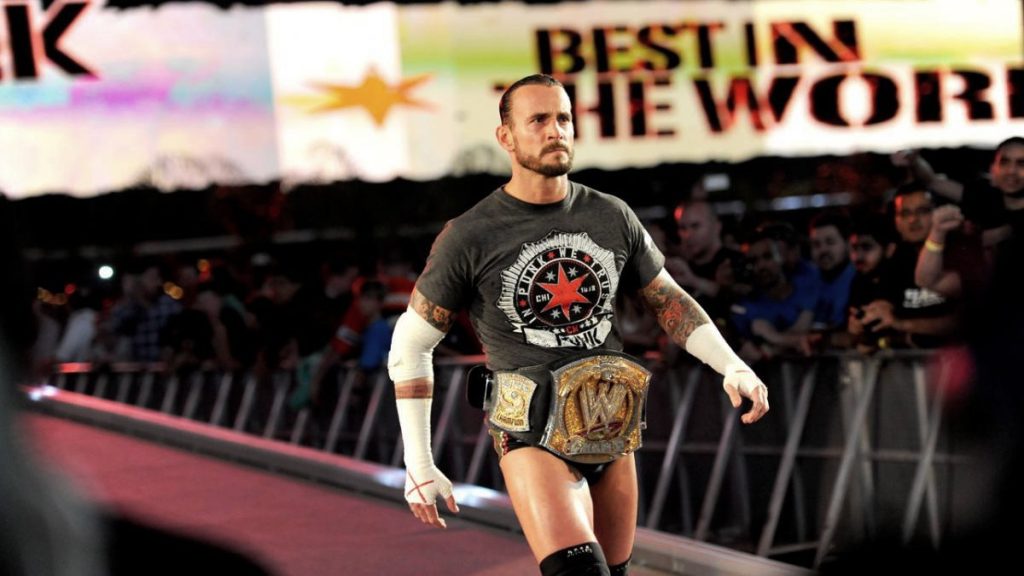 When the year was beginning, Punk was already the longest reigning WWE champion in modern times, full of piss and vinegar, and looking to put all challengers down in decisive fashion. Unfortunately, he ran into two big obstacles on the road to cementing his glory.
First, there was Dwayne the Rock Johnson, who beat Punk twice on the way to his Wrestlemania rematch with John Cena. The Rock unveiled a new belt shortly after his title win at the Royal Rumble, and it suddenly became very clear that Punk was part of an era in wrestling history that was slowly ending before his eyes.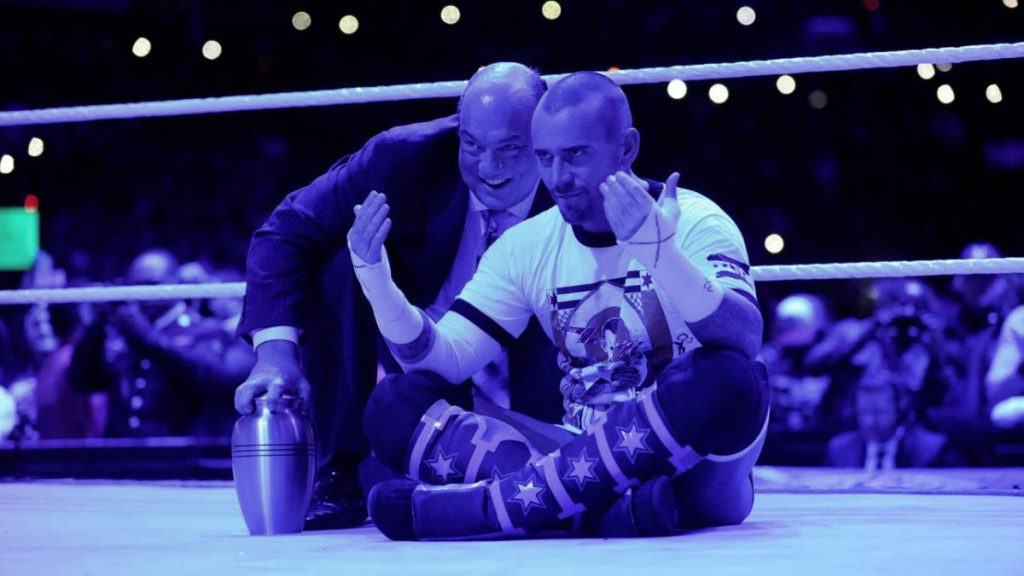 Wanting to prove his worth and cement his legacy, Punk challenged the Undertaker at Wrestlemania 29. Although he came very, very close to beating the Phenom, Punk was still miles away from ending the streak. We knew it, Taker knew it, and most importantly, Punk knew it too. Punk was no longer the number one attraction in the company.
If you take that statement at a face value, you then start to wonder, then who was?
Although Cena was the WWE champ heading into Summerslam 2013, he was also winding down from his primary role as the guy in WWE. He ran into a weirdo who looked like the human incarnation of a mountain goat ( i.e.Daniel Bryan) that night in Summerslam, and there he lost a title he wouldn't regain until four years later. Roman Reigns is there with the Shield, and he is a good two years away from his first big push.
By this point, Triple H and the Undertaker were two of the last remaining outlaws from the Attitude Era. Triple H had largely accepted his role in the corporate part of WWE, mostly appearing in business suits instead of t- shirts and jeans. The last time he wrestled was against none other than Brock Lesnar. Incidentally, Taker also lost his legendary Wrestlemania streak to Lesnar, a year away from this monumental Summerslam encounter.
Lesnar Made it Clear that He Didn't Think Highly of Punk
"Let me make it clear, it is personal between me and Punk. I never liked Punk. He walks around calling himself the Best in the World," Lesnar explained in a WWE interview.
"The only reason I let him exist all this time is out of respect to Paul Heyman.
The corporate idiots are calling this the Best vs the Beast. The Beast is the Best, and you are looking at him.
"Punk thinks just because he taps his hands, and has a bunch of tattoos, and takes MMA classes for beginners at his local gym that he's a tough guy. He's not…
I will give him credit where it's due. Holding the WWE Championship for 434 days nonstop is impressive, specially for a guy like him.
But CM Punk has never faced anybody in his life like me, because there's no one like me."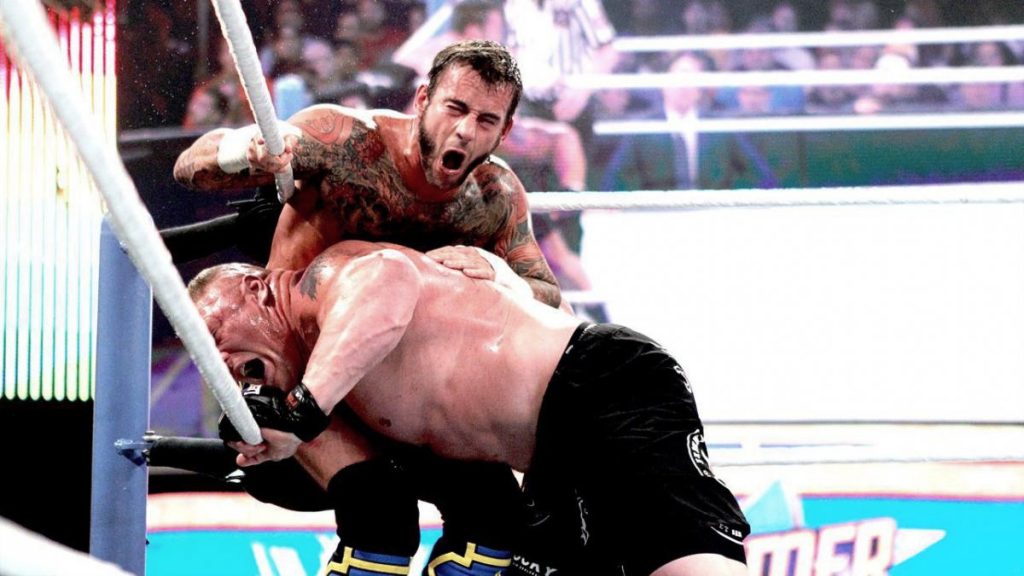 The match started in explosive fashion, with Brock pummeling Punk and driving him to the corner. Punk tried to fight back, but to no avail as Lesnar drove him to the corner and threw him over to the opposite corner, wearing him down with vicious stomps.
"Lesnar is treating Punk like a kid in the playground," Cole noted as the match continued to rise in intensity.
Punk fought back, delivering a flurry of knee strikes that caused Lesnar to topple over the ring and onto the floor. As Punk dives through the ropes at Lesnar, Heyman became noticeably nervous, keeping his distance away from Punk. A chorus of CM Punk chants broke out through the Staples Center.
The momentum shifted between both competitors multiple times, with Punk gaining ground against Lesnar, driving Lesnar into a steel post. After a double axe handle, CM Punk paced towards the announce table with purpose, his face a mask of focused anger as he seethed with rage against both Lesnar and Heyman. He dove onto Lesnar with a clothesline, driving the Beast onto the floor.
Unbelievably, Punk was not only in control, he was winning.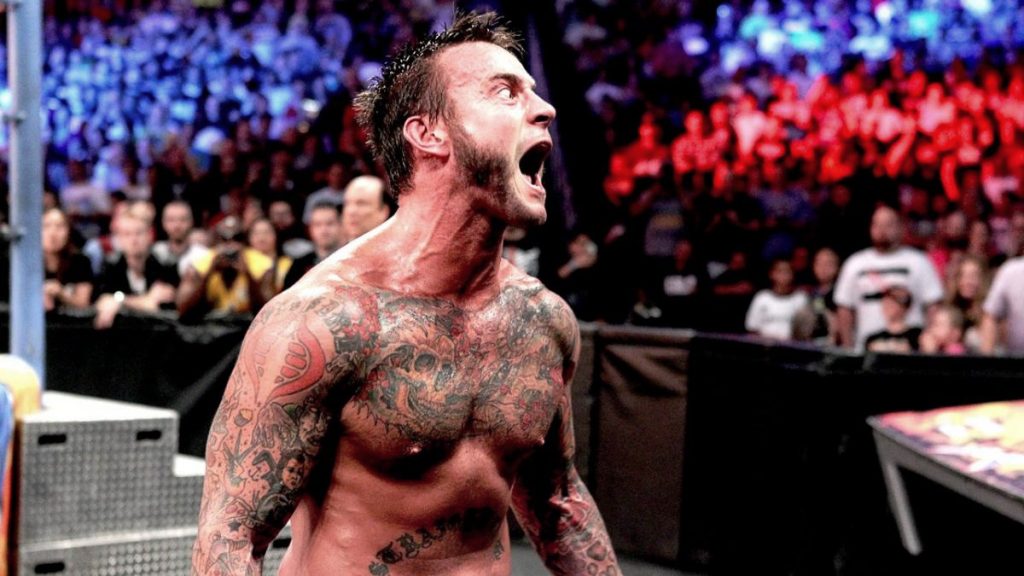 However, Punk was distracted by Heyman's presence, and Brock capitalized immediately. Soon afterwards, Brock threw Punk like a ragdoll onto the announce table. The Straight Edge entertainer bounced off the edge and onto the floor, in a way that makes you think he was a crash test dummy and not an actual human being.
The beast, now dominant, declared his intent to maim Punk, flipping over the cover of the announce table onto Punk's back. Then, in act of unprecedented aggression, Lesnar jumped onto the cover, driving the material into Punk's lower back.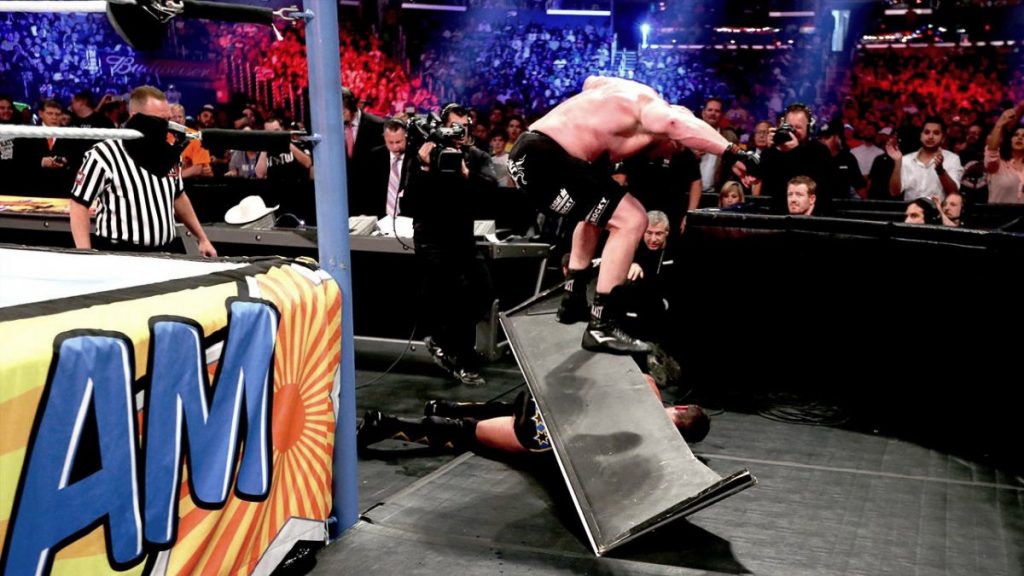 The cover was now noticeably bent, and that's not a surprise, if you think about it. What else do you expect to happen when a 286 lbs super athlete jumps on that poor cover with his full force?
"It's like Brock Lesnar has no remorse," JBL remarked.
Brock paced around his victim, smirking and huffing like a bull. He picked up Punk and dropped him on his back with a devastating german suplex. "Best in the world," he screamed with fury. Punk was now curled in a fetal position, eyes closed, hand barely moving.
As Lesnar rolled Punk into the ring, however, Punk mounted a surprise comeback, raining down on Lesnar with a rapid flurry of kicks, battering Lesnar's thighs. Lesnar, for his part, was quick to retaliate and silence Punk's momentum with one strong punch. Picking up the pace, he carried Punk to the front left corner and rammed his shoulder onto Punk's tenderized gut.
"This is your boy, huh?" Brock taunted the crowd, squeezing the life out of Punk's sides. Punk attempted to fight back, temporarily breaking free before Lesnar downed him again with a brutal knee strike.
"Stay down. Stay down!" Heyman pleaded with his former client.
Eighteen minutes into the match, Lesnar's stamina was finally winding down. As he fell to his knees, Punk ascended to the top rope. He leapt, looking to catch Lesnar offguard with a double axe handle, but Lesnar counters at the last second, throwing Punk to the other side of the ring.
Lesnar was battered, but it was going to take a lot more to take him down for the three count.
Lesnar attempted several pinfalls, but Punk raises his shoulders, refusing to stay down. Lesnar locked in another submission hold, straddling Punk's head and throat under his massive arms. Punk, squinting, heard the crowd come alive, chanting his name. Then, in a flash of inspiration, he grabbed Lesnar's head and bit his ear.
In case you forgot, this was a No Disqualification Match. Anything goes, and that means CM Punk paying homage to Mike Tyson was also fair game.
Punk stepped up his offense, with a barrage of kicks, and then a series of elbow strikes.
Dazed and confused, Lesnar stumbled around the ring, his fists raised, but Punk wasn't there: he's on the top rope once again.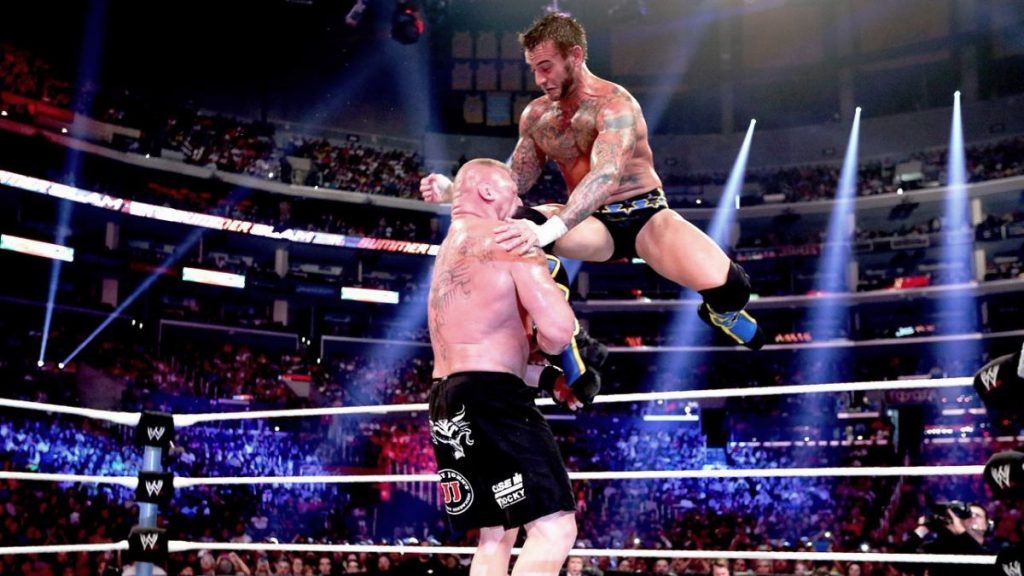 Punk steadied himself, waiting for the stunned Lesnar to come into his range, and then he flew, nailing Lesnar's jaw with a devastating knee strike. Lesnar careened and rolled on the ground, like a giant that has been felled, scurrying to the front right corner.
After a series of running knee strikes, Lesnar caught Punk once again, lifting the man on his shoulders. Punk escaped by the skin of his teeth, countering with a clean roundhouse kick.
Once again perched above the turnbuckle, Punk channeled the spirit of the Macho Man, pointing to the sky before crashing down on Lesnar with an elbow drop.
A vicious tug of war followed, with both competitors trying to execute their finisher on the other man. However, this exchange ended with Lesnar down on the mat, for the third time in this bout.
This is unprecedented.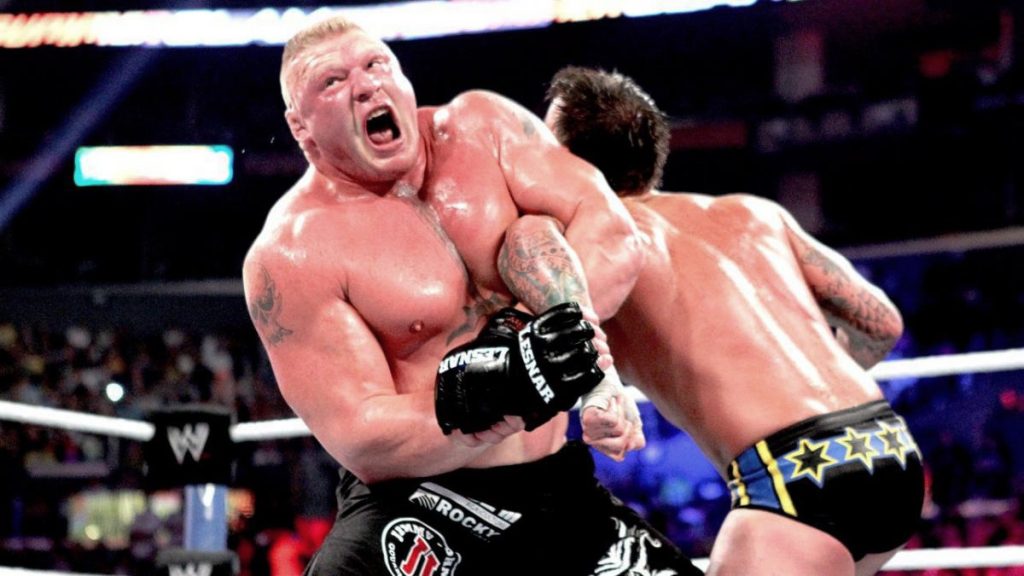 Punk, now assured of victory, raised Lesnar onto his shoulders for a GTS, his face locked in a grimace. As he lifted Brock up, the man countered at the last second, grabbing Punk's arm for a Kimura Lock.
Brock used this move earlier to break Triple H's arm. Punk's resilience meant that this was a case where an unstoppable force collided with an immovable object. Who would give in before the other?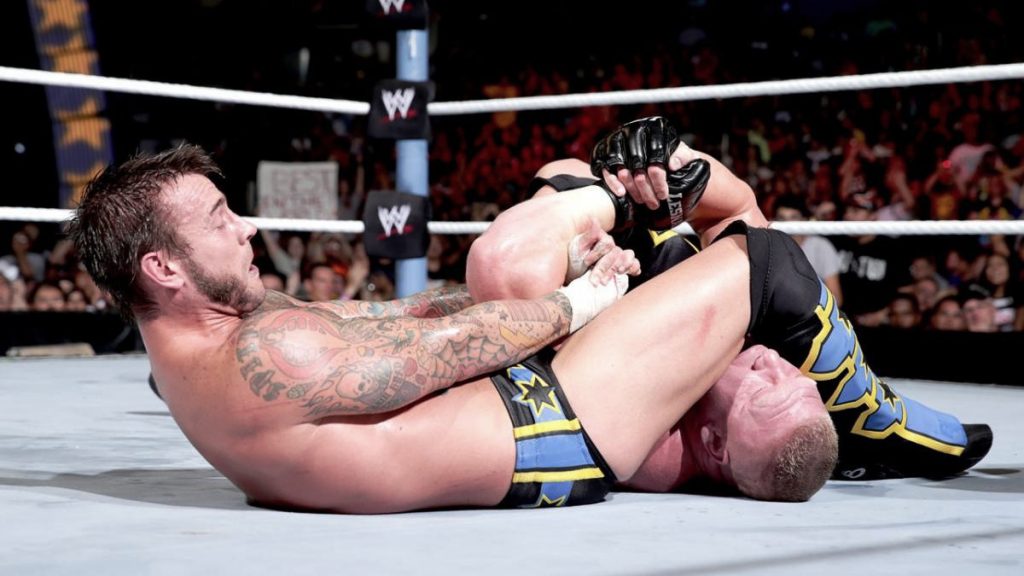 Punk was leagues away from the rope, and the way Brock was angling his arms, he makes it clear that he will snap Punk's arm clean off if he didn't tap. Punk maneuvered around Brock's head and turned the tables in his favor, locking an armbar instead.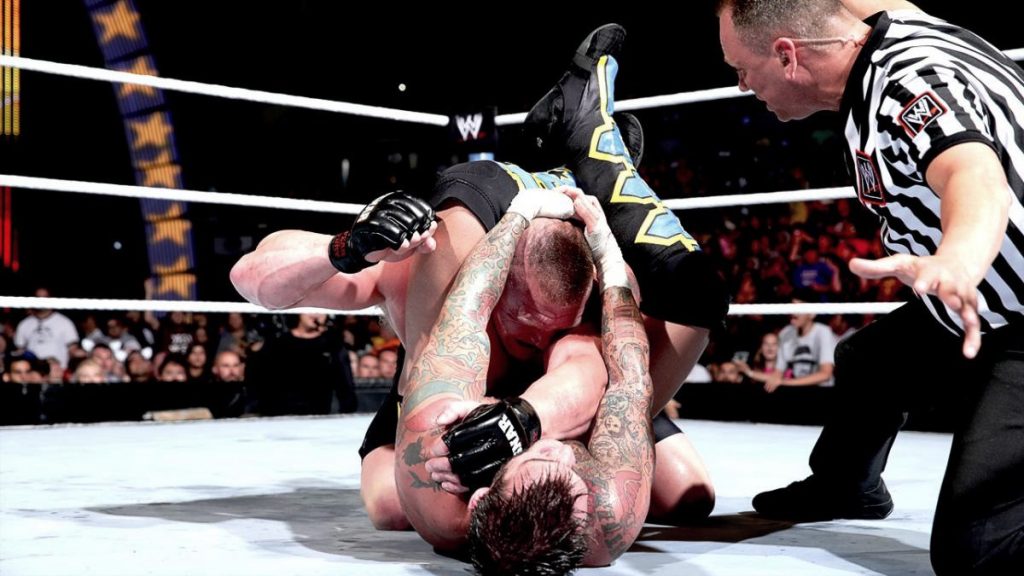 Brock turned around to break the lock, but Punk, one step ahead, locked in a triangle choke on Brock's head. Soon, Lesnar overpowered Punk, raising him up in the air and slamming him to the mat, rattling Punk's back.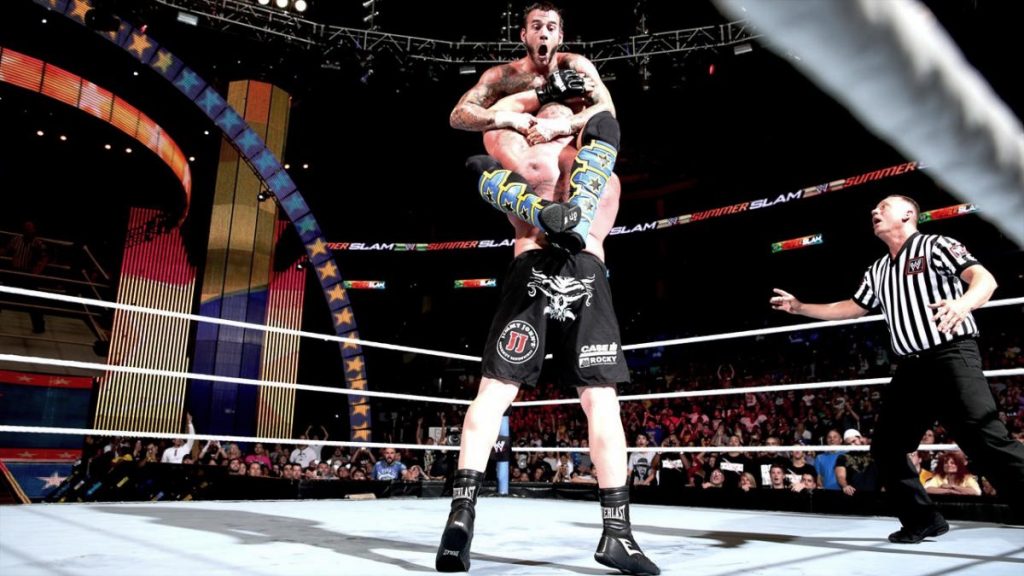 Astonishingly, Punk didn't let go, squeezing the fight out of Lesnar with his legs. Lesnar, close to tapping, rose up once again to slam Punk onto the mat. Punk battered Lesnar with elbows while in the air, but the offence was in vain; Lesnar drives him to the ground with a running powerbomb.
Heyman was seething, and the crowd at Staples Arena was alight again with CM Punk chants.
Lesnar looked around, wondering if he could truly take Punk down.
Brock resumed his onslaught, executing three suplexes, before going for another pin. Cole remarked if Punk's never say die attitude is reminding Brock of Eddie Guerrero, who defeated Lesnar for the WWE Championship in a classic encounter at No Way Out 2003.
Lesnar took his time to recover his stamina, stalking towards the announce tables, his eyes gleaming. He picked up a steel chair, intending to batter the remaining life out of Punk. But before he knew it, Punk was on the top rope again, and when Brock spotted the man, Punk was already diving.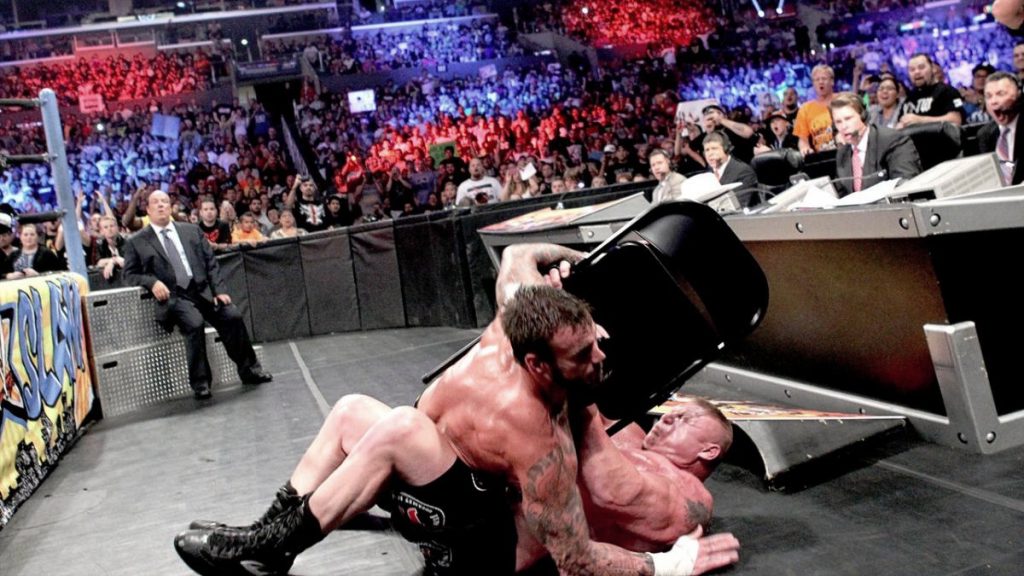 Brock, to his credit, was quick enough to raise the chair to block Punk, and Punk's chin smashed into it, the rest of his body falling onto Brock's form.
Punk grabbed the chair, and unlike Lesnar, he didn't wait around, swinging the chair onto Lesnar's back with authority. When Lesnar attempted to seize the chair, Punk blindsided him with a low blow.
Steel chair in hand, Punk leapt off the top rope and crashed into Brock, smashing the chair onto Brock's face.
Lesnar was reeling, but he still has some ways to go; when Punk covered him for a pinfall, Lesnar kicked out at two.
Punk renewed his assault with the chair, but surprisingly, Heyman interfered, drawing Punk's attention and distracting him from his opponent. Brock scooped up Punk for a F5, but Punk clutched Heyman's tie in a desparate bid to stay in the fight.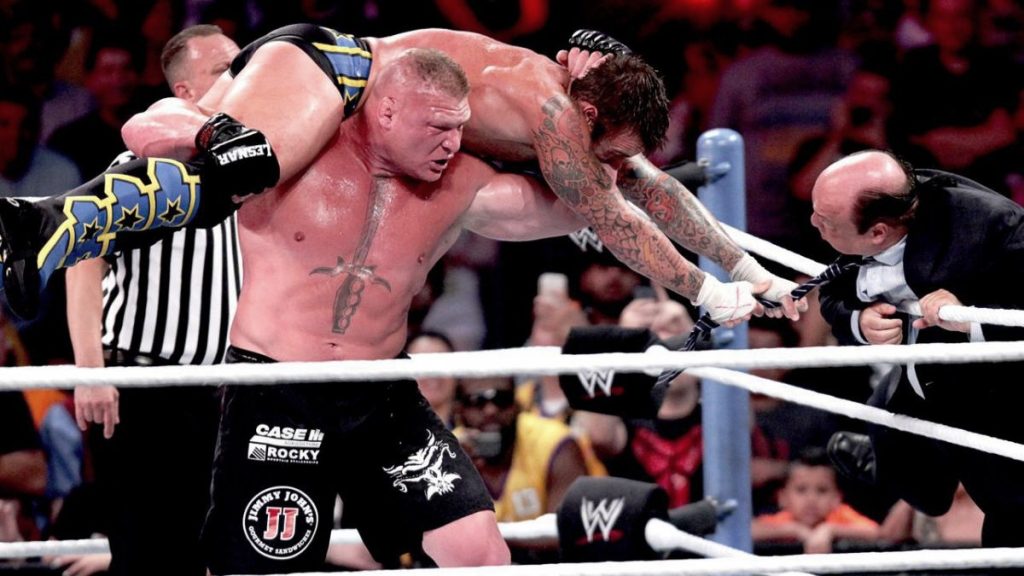 Brock pulled, yelling at Punk to let go, but Punk was adamant, nearly choking his former manager as he hung on for dear life. Fuming, Lesnar let Punk go.
Like some hero out of a Greek myth, Punk mustered enough strength to make another comeback. He finally hit the GTS on Lesnar.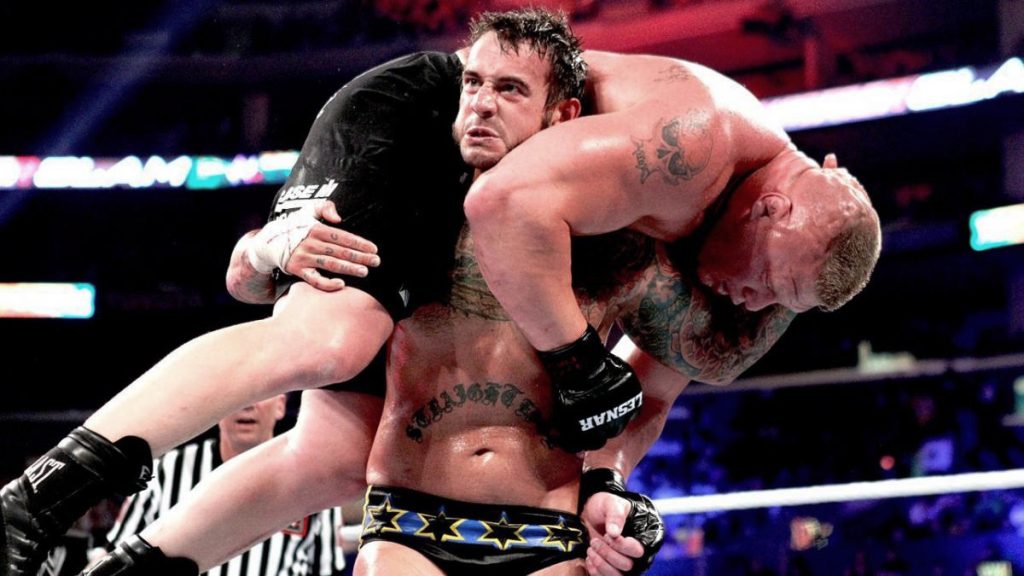 But Heyman broke Punk's pinfall attempt, and for the Straight Edge superstar, this was akin to adding fuel to his fire.
With a deranged smile, Punk chased Heyman around the ring, only to be greeted by Lesnar. Incredibly, Punk reversed a F5 attempt into a DDT, getting another near fall. Rapidly running out of options, Punk locked Lesnar in the Anaconda Vice.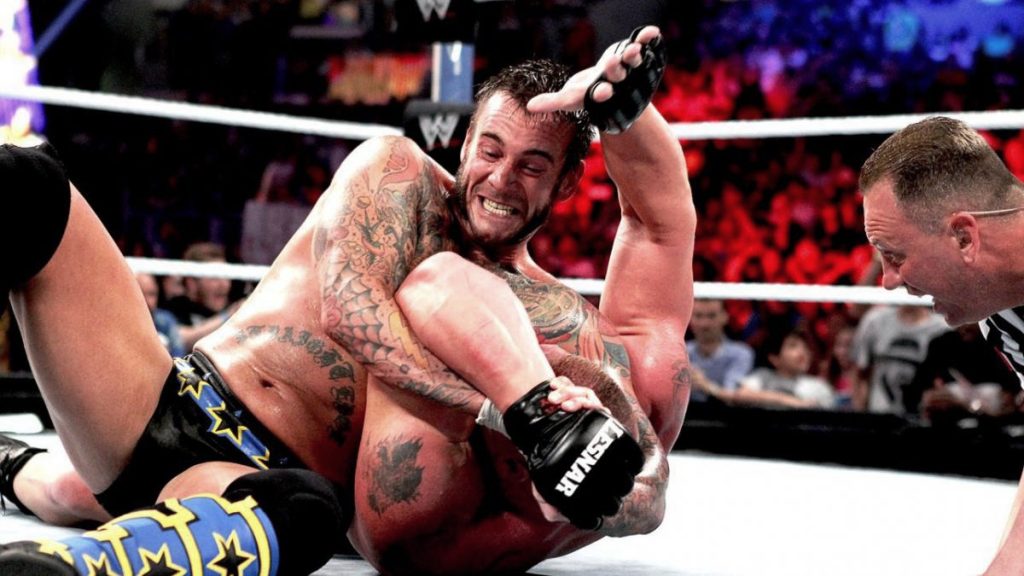 At 32 minutes, this is the longest fight of Lesnar's career since he returned to WWE in 2012. Brock, in serious danger of tapping out, was a wounded animal, thrashing against the floor, like a whale does when it ends up on a beach.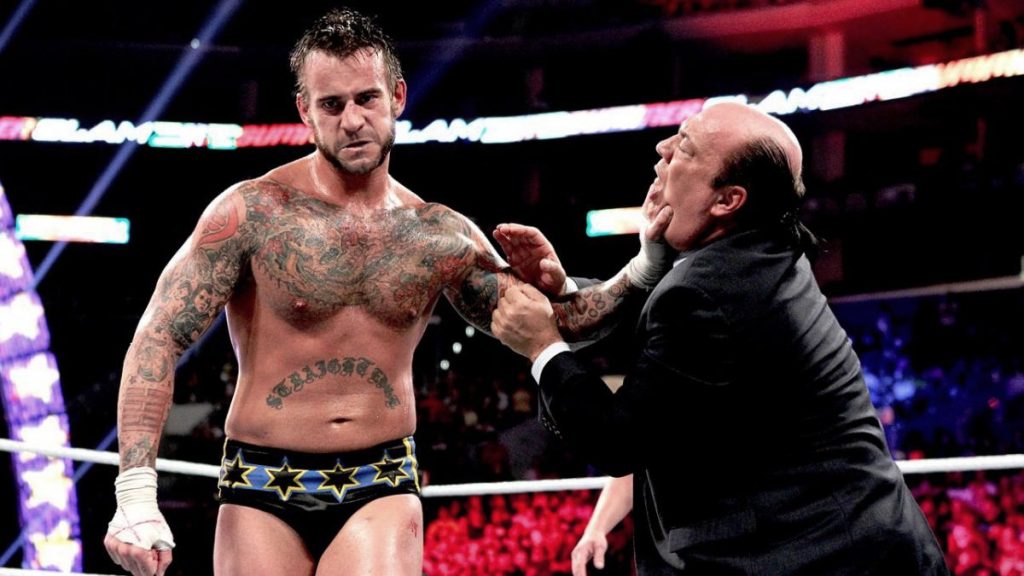 Punk spotted Heyman slithering into the ring with a chair, and broke the submission hold to confront Heyman. Exhausted and overcome with emotion, Punk threw a punch at Heyman and locked the man with another Anaconda Vice. Heyman tapped repeatedly, pleading with Punk to let go, but his pleading fell on deaf years.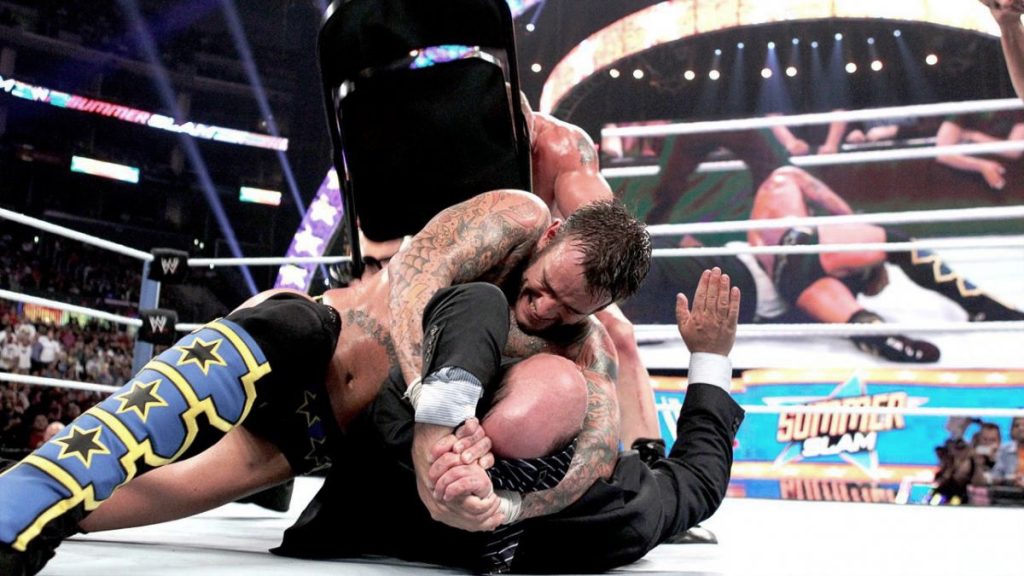 Fortunately for Heyman, Brock was there to break the hold, before blasting Punk's bruised back with multiple chair shots.
Brock raised Punk to his knees and stares into the man's eyes, knowing that he was beaten. He dropped Punk onto the chair with a final, definitive F5, pinning him for the win.
Brock grinned, the way a prizefighter grins after he has demolished a worthy challenger.
Heyman grinned too, but it's a nervous grin; he's relieved that he escaped Punk's rage for now, but who knows what waited for him in the near future? (Spoiler: it involved him receiving numerous Kendo stick strikes by CM Punk.)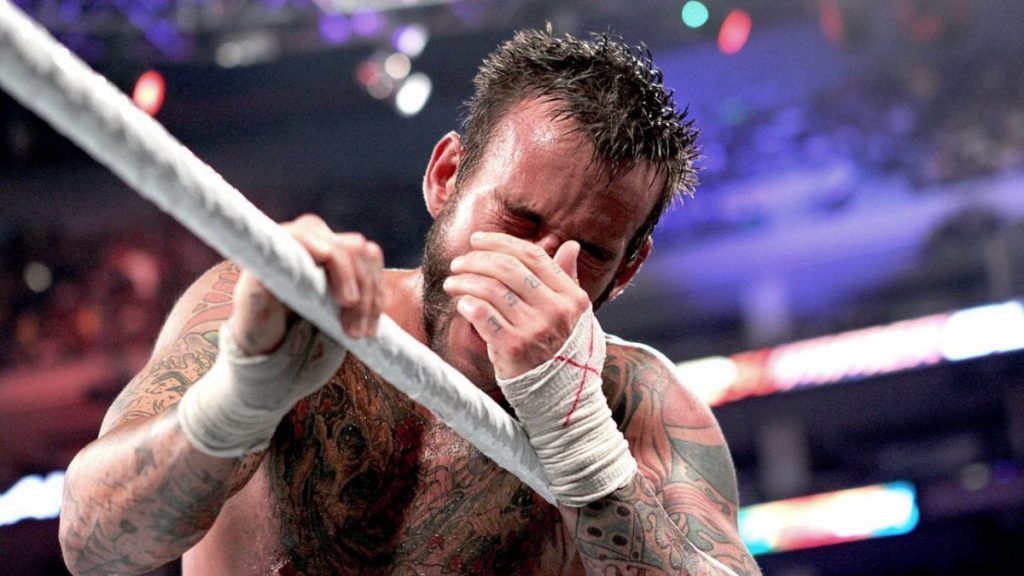 After the two left, Punk pulled himself to his feet, buoyed by the crowd's chants. He limped away, clutching his arm, looking at the 17, 739 strong crowd, frustrated by another setback that added to his series of misfortunes in 2013. Fortunately, although the beast remained unconquered, Punk's pride also remained intact.
Punk walked away, his music blaring across the arena.
Punk was upset, but he's secure in the knowledge that he came this close to dousing the Beast's massive momentum, and that he lived to fight another day.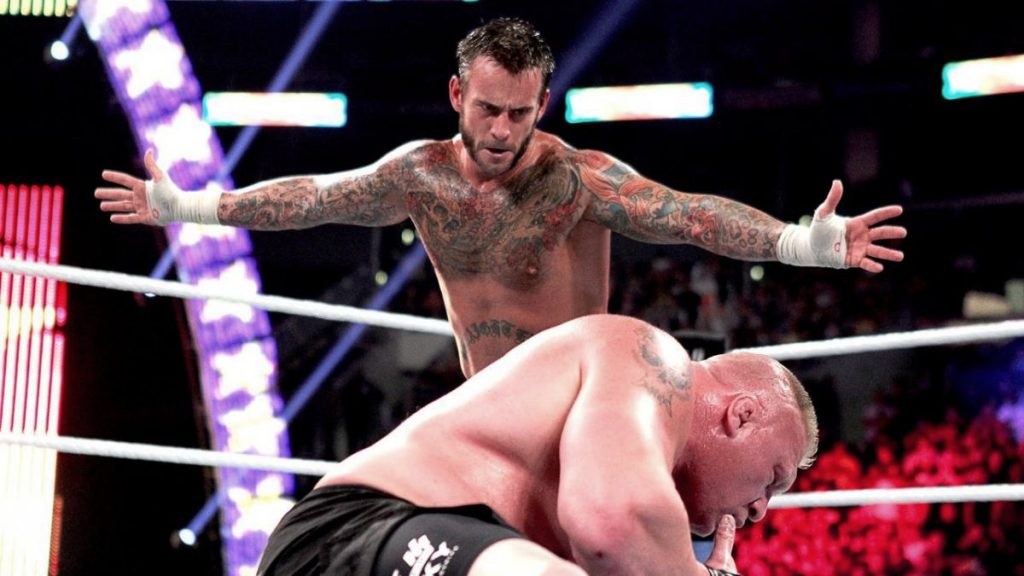 There's several reasons this match can be considered as the Match of the Year. The storytelling, with Punk going to war with Lesnar but being continuously distracted by Heyman was on point. This match was also paced very well, starting with the methodical offense of Brock and then contrasting that with Punk's desperation, scratching and clawing his back into control of the match's tempo.
Lesnar proved his dominance at the end, a sign of things to come that would culminate in him breaking the streak and then dominating the WWE roster with his three heavyweight reigns in the years that followed.
It's bittersweet that we only had Punk vs Lesnar once and Roman Reigns vs Lesnar four times already.
But then again, Punk only needed one match to give Lesnar the biggest fight of his career, and nothing Lesnar has done since then has measured up to the sheer quality of storytelling shown in this encounter.
At end of the day, familiar thoughts come unbidden to the mind, asking what if?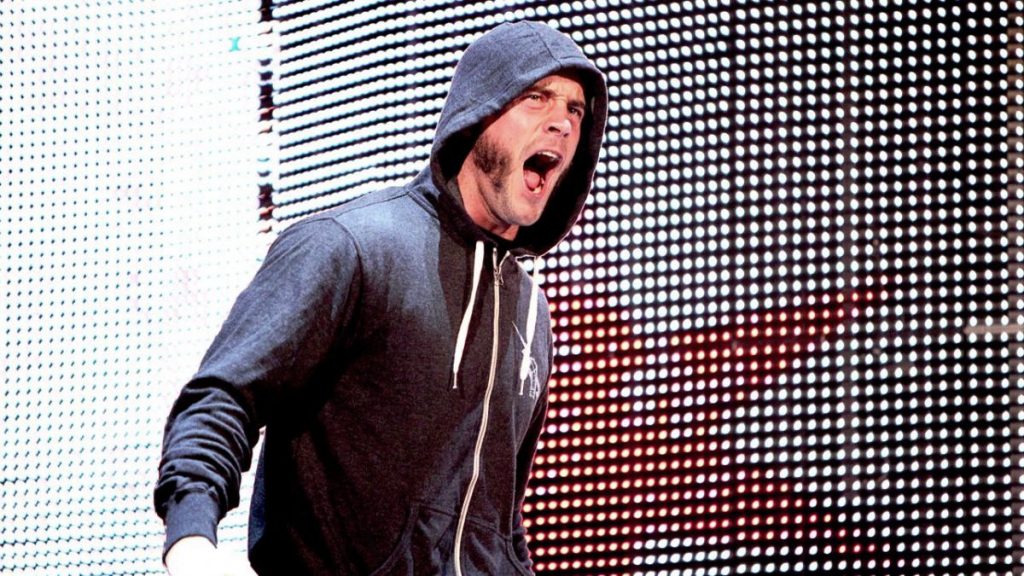 Yes, Punk has stated repeatedly that he is done with wrestling, but looking back at matches like these makes you think that wrestling isn't probably done with him. For now, we can only sit back and wait. At least, there's the WWE Network if you want to relive Punk's greatest hits in WWE, so that's something.
Five Stars is a series where we review classic wrestling matches, break down the exciting moments and storytelling, and relive what made them so great.