The Dog days are over in Bojack Horseman. They truly are.
A few minutes into the fifth season's second episode, Diane and Mr. Peanutbutter started talking about their divorce papers. My heart broke when I realized my favorite couple on Bojack Horseman were no more.
This is a show about constant suffering and loss, and the normalization of that loss. It's only natural for Diane and Peanutbutter to drift apart. They were fighting cats and dogs since they got married, but their fights seemed real. As viewers, we were invested in their relationship, which had developed since the show's first episode.
Diane escapes her predicament, first by getting a haircut (that makes her neck look longer) and then by boarding a flight to Vietnam. Her outward excuse, as a Vietnamese-American, is to reconnect with her roots.
Except that she doesn't have any. Not in Vietnam, at least. She was born and bred in Boston.
Lost in Hanoi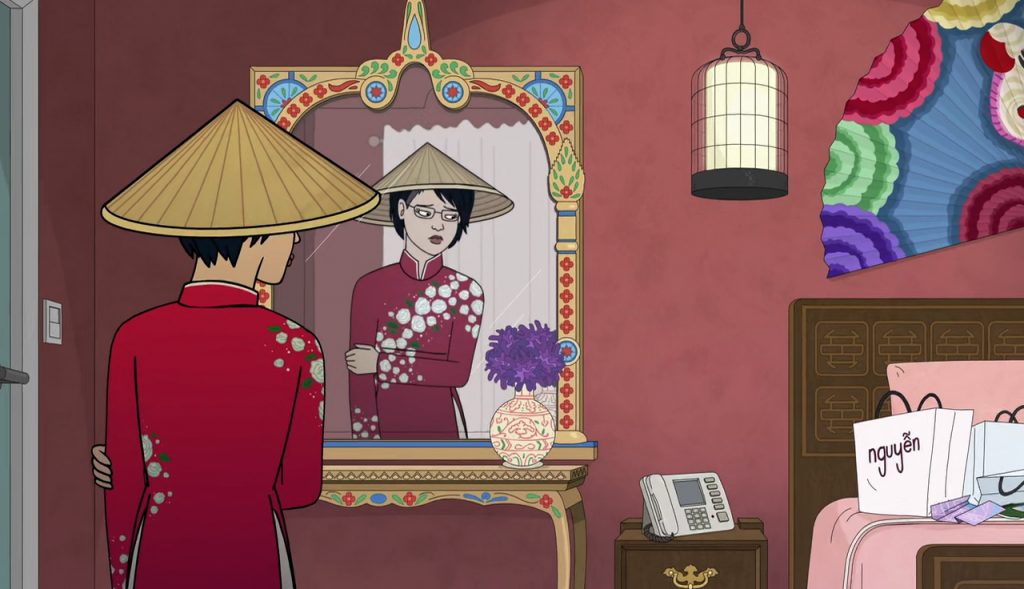 Her understanding of Vietnamese is elementary at best.
Soon, she feels alienated, and at odds with locales and spots that she only knows as an American tourist, and not someone who knows her heritage.
She tries to do the touristy things: taking photos, writing a listicle on her experiences and helping out fellow Americans (and getting berated for her troubles). But her experiences are punctuated by moments of emptiness, that speak to both her uprooted cultural narrative and the larger hollowness inside her.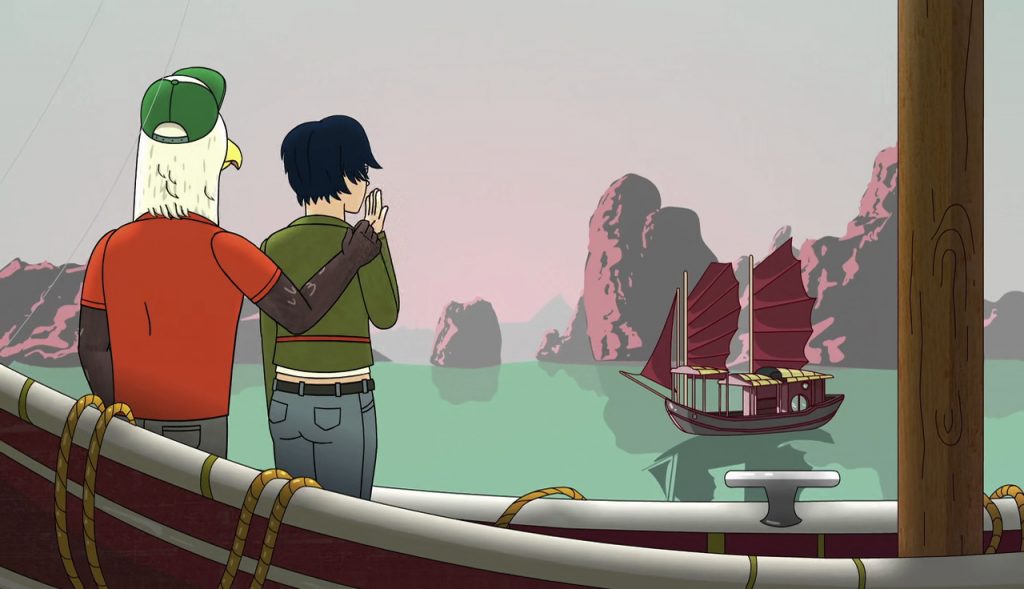 There is a moment in the episode where Dianne pretends to be a local and forms a connection with another American (Eagle) tourist. They look over the vistas of Halong Bay, where Laura Linney (and millions others) went to find themselves. But it's just a background prop in a set, and he's just a grip for movie productions.
I don't have as much of a complicated heritage as Diane does, but I do feel where she's coming from. Identifying with the Revolutionary War and reading up on the Gettysberg Address, while drawing the map of Bangladesh wasn't a fun experience, either.
Coming Undone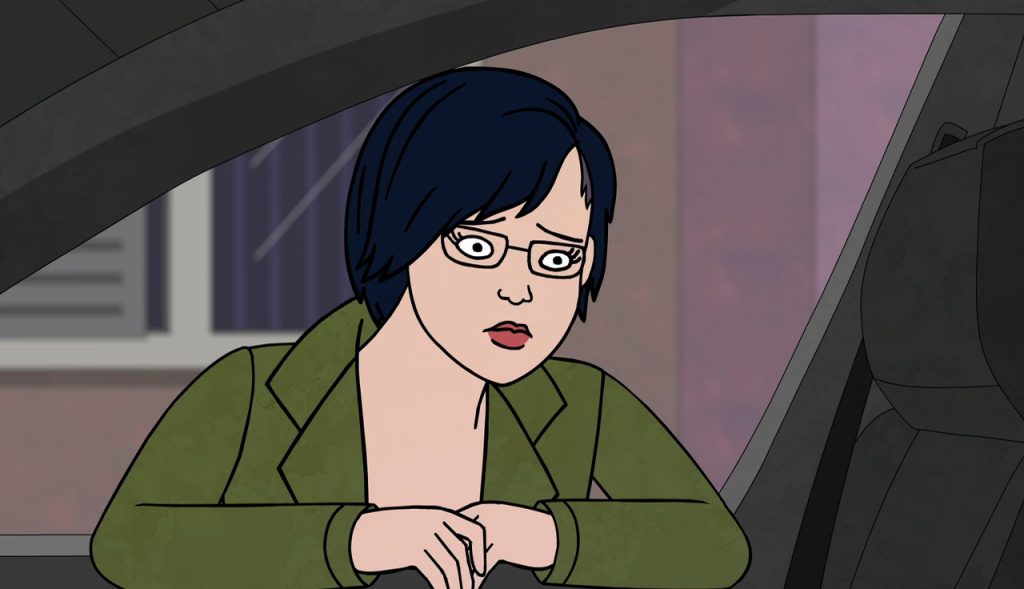 Most of Bojack's foreign episodes have an element of Lost in Translation to them. What separates this from the others, however, is the running thread of Dianne coming to grips with her divorce. She and Mr. Peanutbutter try to remain friends- to be the most mature divorced couple they know- but it gets more complicated when a waitress starts hitting on Mr. Peanutbutter right in front of Diane.
It gets even more complicated when she crashes at Bojack's pad and he has to tip-toe around the fact that he had feelings for her way back when, and now that Diane is single again, he could try acting on them (at the cost of their friendship, of course).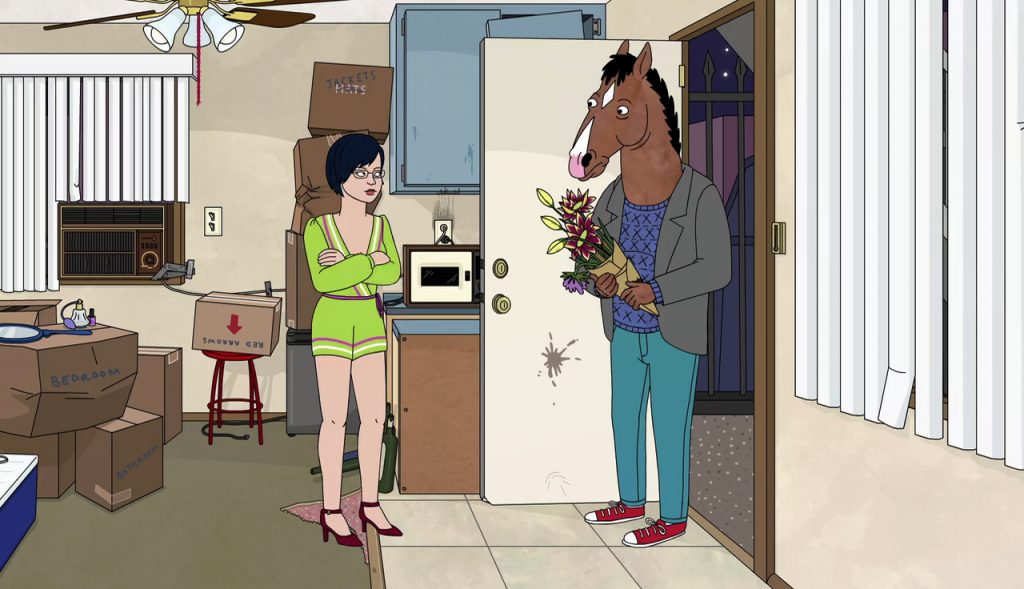 Bojack isn't comfortable being the more mature one in a friendship. He dumps her unceremoniously when he remarks that she looks beautiful with her new haircut, and wishes her luck with Mr. Peanutbutter.
But then she sees Mr. Peanutbutter with someone else, and her world crashes down.
"At first you think it's just a fling. And then he puts a hand on the small of her back, like he used to do with you. It means you are safe. And you realize, he will never do that to you again.
And it breaks your heart again, after it was already so broken that you didn't know it could be any more broken.
You thought it was safe. But it still finds new ways to break. Because even though you are the one who asked for this, now that you have got it, you are completely adrift. With no sense of compass, or map, or sense of where to go or what to do.
So you go to Vietnam. You think you might find community, a connection to find something bigger, but…you don't.
In fact you feel even more alone than you were when you left. But you survived. You learn that you can survive being alone.
I am really happy for you, Mr. Peanutbutter."
Being Okay with Being Alone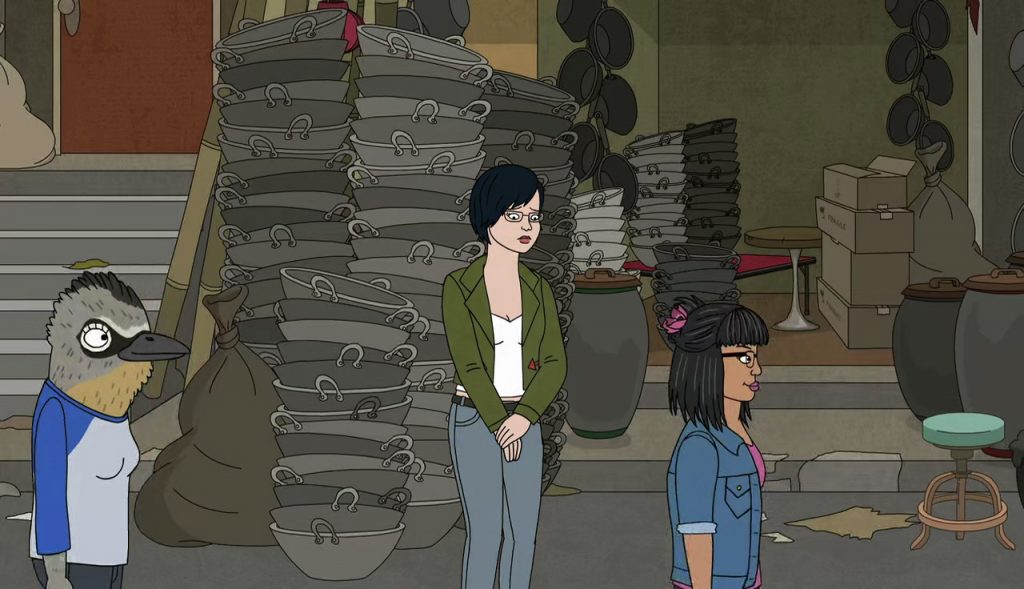 I haven't traveled in a while, and certainly not alone. But I understand a little bit more about why people like traveling, specially for solo trips. There is some peace to be found in solitude, in discovering new experiences without sharing them with someone else. It's unfortunate that Dianne didn't find that sort of serendipity in Vietnam, but at least, she has a friend to come back to, when she returns to Vietnam.
This episode was simple, beautiful and resonant, thanks in no small part to Joanna Calo, a mixed-race Latina writer on the show. "She saw a lot of her own story in Diane's: the quest for identity, never quite feeling like belonging in either world," said Raphael Bob-Waskberg in a Slate interview.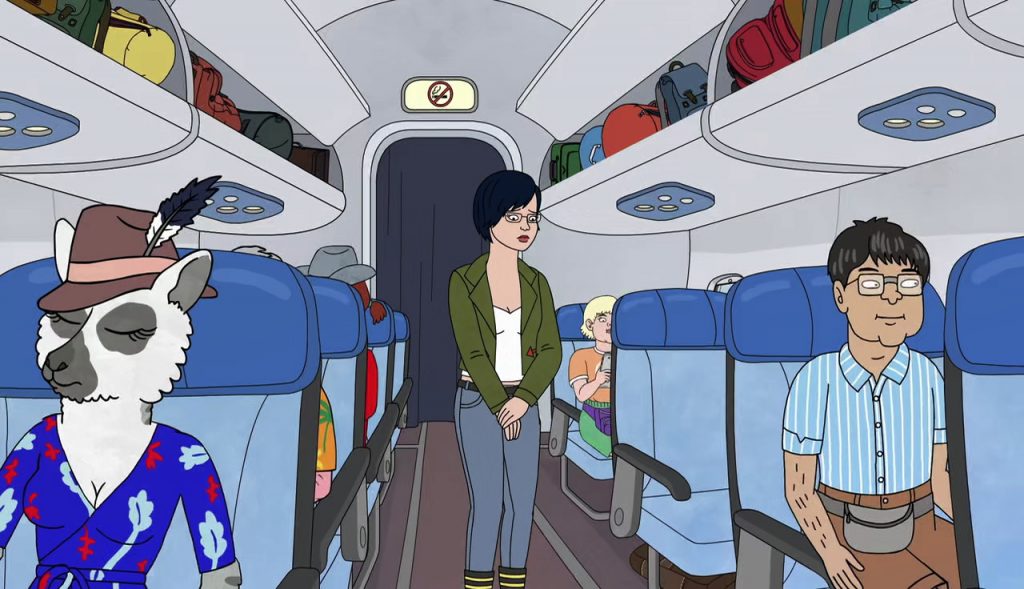 Drifting endlessly, without a goal in sight, takes a certain kind of constitution. It's one that I am familiar with, and that's why I find a level of kinship with Diane and her struggles. She could have gone the easy route and stayed comfortable within her labels: Vietnamese-American, writer, wife. But she chose the path less traveled, and the suffering that comes along with it.
Here's to hoping you remain strong, girl. You will find your own Halong Bay, before long.
In Episodic, we analyze individual episodes and what makes them good, bad, fantastic or mundane. Show us some love, and follow our column on UpThrust.